Welcome everyone! My name is Marcel from Genelec and in this video we'd like to show you some of our high-end solutions for hi-fi listening. They all feature our SAM technology. SAM stands for Smart Active Monitoring – and is really helpful to optimise your listening experience at home.
High Fidelity explained
Our approach for hi-fi listening is to have a closer look at the term "high fidelity" first. Because high fidelity literally means: to reproduce audio as good as possible, without adding anything, being true to the original. And this is something we're really good at – as we always wanted to provide a sonic reference. This sonic reference is appreciated for more than 40 years in the professional field by sound engineers who want to evaluate their recordings, by mixing and mastering engineers, producers and artists who want to create productions that transport their vision – in every detail and with a lot of passion involved. And they want to ensure their mixes and masters translate well to a lot of different systems and environments – for example: your home. Because in the end, you should experience and enjoy it in the best possible way. Our range of Smart Active loudspeakers and woofer systems are used by professionals to create productions that inspire and move the listener. And because they offer you some great concepts and ideas – it's possible to recreate this listening experience in a home environment as well. And that makes our systems the perfect choice for hi-fii applications.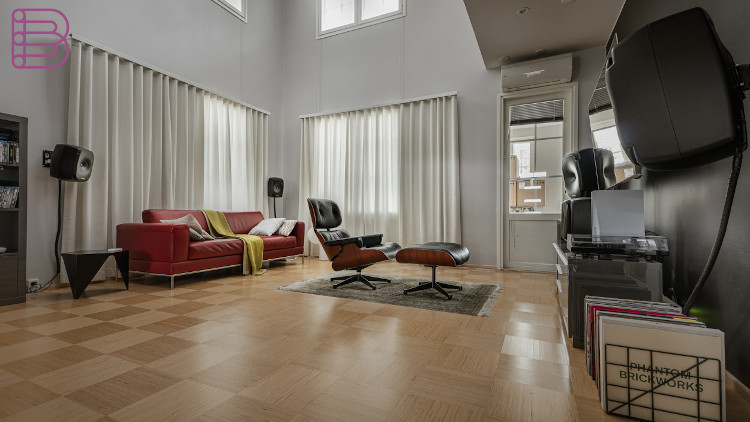 The Ones and SAM technology 
Let's start with our series called "The Ones". These speakers look absolutely unique, and they are unique! They are 3-way speakers with the ideal design of a point source. There is a coaxial driver with the tweeter in the middle and the midrange driver right next to it – without any gaps that could cause colorations. Two oval bass drivers are behind these two openings. That makes it possible to have a large waveguide for a very controlled directivity and an excellent on- and off-axis-performance. And, the modulation of high and mid frequencies by the movement of the bass drivers is reduced. The enclosures are made out of die-cast aluminum which is stable, and resonance-free. You can experience the high resolution of a 3-way-system in 4 different sizes, starting with the very compact 8331 up to the largest model 8361. With increased size you will get extended bass and higher SPL capabilities. 8331s for example play down to 45 Hz / 104 dB, the 8341 reach 38 Hz / 110 dB, 8351B 32 Hz / 113 dB, and the biggest one 8361 plays down to 30 Hz / 118 dB. If you want to sit a little further away it also makes sense to choose a larger model. What makes "The Ones" a perfect choice for home environments is the really wide coloration-free listening zone. So, you can move around without the sound character changing too much. Reflections of your room will also be uncolored due to the controlled off-axis performance. You might have experienced that certain bass frequencies are over-pronounced in your room. These frequencies will cause a boomy bass and mask a lot of the other frequencies. So, you lack clarity.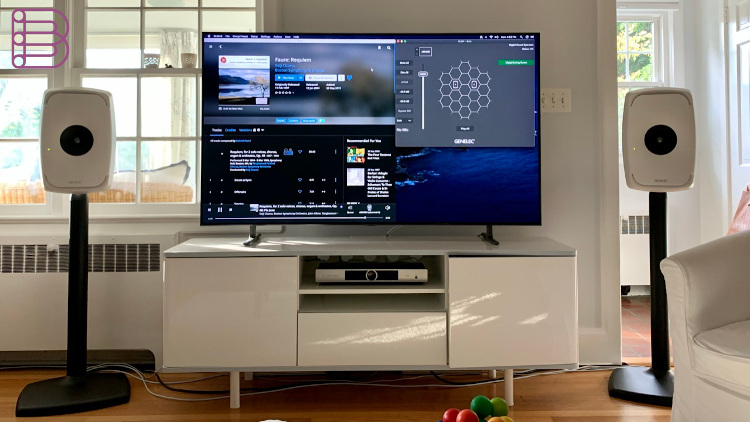 With our SAM technology the speakers perfectly adapt to your room acoustics and your placement. All you need is our so-called GLM-Kit. GLM stands for Genelec Loudspeaker Manager. It consists of a USB network adapter, a measuring microphone and the GLM software for Mac or PC. Standard CAT network cables are used to connect all components of your system with the network adapter. It's a simple daisy-chain – so the order doesn't matter. The frequency response of each speaker and subwoofer is then measured at your listening position with the microphone, and our GLM software will automatically use the internal DPS to compensate for the influences of your room and the placement. This process is called AutoCal. It will give you a neutral basis to start with. You can later edit all settings exactly to your needs if you like to. So, you don't have to be afraid you'll have to accept a too-analytic sound made for sound engineers. If you're a fan of more warmth and more bass, that's perfectly fine, and you can adjust the system. The good thing: You will achieve more warmth and more bass – but still it will sound precise and clear. This will give you a well-controlled, transparent and precise low-end. If you adapt your system to the room, vocals will sound natural and open with great clarity. You will feel the character of a grand piano. A double bass will no longer sound muddy, and drums can sound punchy. If you're a fan of electronic music, the tightness of the bass-range is also very important.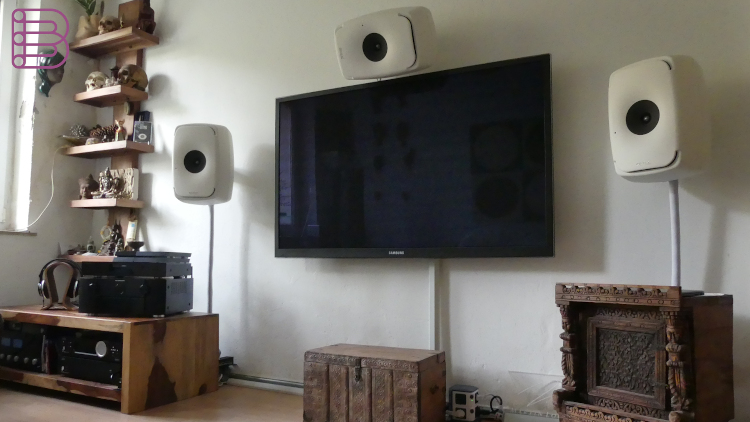 In addition, all of our models deliver a stable stereo image with precise phantom sources and depth. You will be able to hear the real acoustics of a concert hall as well as the artificial reverbs and delays a producer has chosen for his mix. If you like to, you can sit really close to your speakers to further reduce the influence of your room. And because of the point source-design you can also use them horizontally. This is a great option for center speakers for example. Analog and digital inputs make it easy to integrate our systems into your signal chain.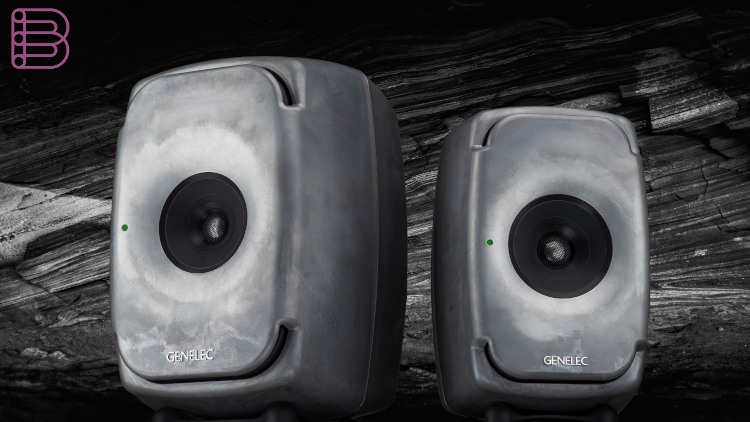 To sum it up: All models from our "The Ones" series will bring your music alive – with the high resolution of a coaxial 3-way system but with a compact size. The point-source design and the large waveguide will give you a wide listening zone, with an excellent on- and off-axis performance. The SAM technology will help you to know, what's happening in your room and to adapt the system perfectly to your listening environment. With four models available you can scale the system exactly to your needs.
Genelec W371 
Speaking of precise low-end: Our adaptive woofer system W371 is the perfect addition for the 3 larger models of "The Ones". It can be combined with 8341, 8351B and 8361 and will extend the low-end down to 23 Hz. This system has two woofers – a 14" woofer on the front with a closed design, and a 12" woofer on the lower backside with a bass-reflex-design. We can use these two woofers, which are at different physical locations, to improve the bass range even more. A traditional subwoofer can be a great choice to give you lower bass – but if your room acoustics are challenging, our adaptive woofer system offers more flexibility. For example, we can go for a higher cross-over -frequency to the speakers like 150 to 250 Hz. Notches that might appear in the frequency response of the speakers will not be there for the woofer system. You can then configure it to do the job in this range. There are different operating modes to choose from – depending on your room acoustics. For example, you can choose a mode for higher directivity. Or the system can decide which bass driver works best in which frequency range. All of these modes can be controlled using our GLM software. It's possible to achieve a linearity in the bass range that you usually only get with flush-mounted speakers. But, you have still the flexibility of a free-standing system. The addition of the woofer system also takes away some load from your speakers. The moment they no longer have to reproduce the lowest bass range they get more headroom and even more resolution. The W371 in combination with "The Ones" is surely one of the most flexible and best sounding solutions for full range HiFi listening you can find on the market.

Genelec 6040R
Finally, let's have a look at the new 6040R. The 6040R is a floor-standing 2-way speaker that combines excellent audio quality and flexibility with the iconic design of the Finnish industrial designer Harri Koskinen. 20 years ago, he designed the original 6040A. This was the first Genelec loudspeaker to feature the rounded edges of our so-called Minimum Diffraction Enclosure. This design avoids diffraction and integrates the well-known waveguide for a controlled and coloration-free directivity with a precise and stable stereo imaging. 20 years later this design still shines – and the new 6040R now offers our latest key technologies. It has analog and digital inputs and DSPs to adapt it to your room acoustics and placement. So, you can enjoy a pure, precise and natural playback – even in challenging spaces without acoustical treatment – like a regular living room. The new Class-D-amplifiers guarantee a high SPL headroom (it reaches 109 dB in 1 m) but still it ensures a low power consumption. You can also define if the speakers should go to the stand-by mode after a certain time. Sustainability is important for us. We use recycled aluminum for the enclosures and our factory in Iisalmi, Finland, is powered entirely from renewable fuels. The system is a closed design and plays down to 43 Hz. If you want to extend the bass range down to 27 Hz, you can add our F Two subwoofers for example. You can then also connect an optical output from your TV or streamer directly to the sub. It will automatically playback everything below 85 Hz, and the speakers will receive a high pass-filtered signal. Our subwoofers from the SAM family are also a good choice. You can then enjoy the advantages of the room adaption for the bass range as well. It's also possible to add 2 subwoofers for true stereo bass extension. We offer different color options to make it easy for you to integrate the 6040R into your environment. It can be ordered in grey, black, white, black with white grilles and white with black grilles. A classic design with the latest technology – including room adaption to let you enjoy high-quality audio at home.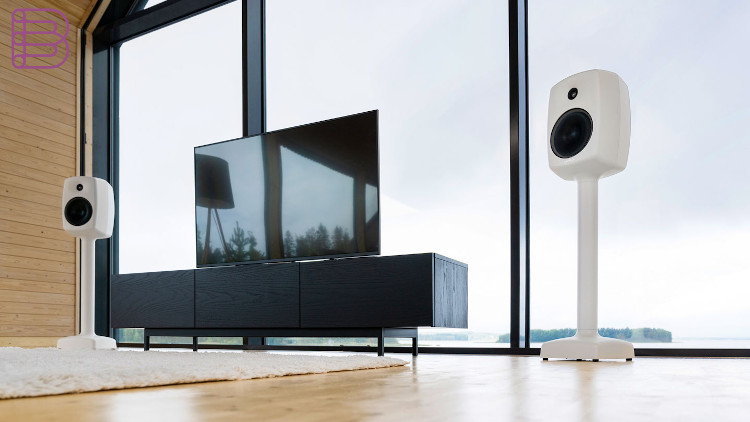 More information about The Ones.
Visit the Genelec website.