Vitus Audio truly is a great name in the industry. Best of high end got the chance to interview the leading man and visionair Hans-Ole Vitus. In this fifth part we asked him: 'Which state-of-the-art technology do you use in the Masterpiece Series? What are the benefits?'.
Masterpiece Series technology explained
Hans-Ole Vitus: "Well again, everything is fully balanced? The benefit is in theory … well not only in theory, but that's why it's normally used … balanced means less noise. So with professional equipment you'll always have to have … not always … but normally you have very long cables … you know at a concert you have long cables, so noise is an issue. So you have it balanced so you can suppress noise. Inside the chassis, it's not so much the noise part that comes to play. One of the issues of doing it fully balanced is actually that you have to match everything. If the part of the electronics which takes care of the positive or the correct phased signal and the one that takes care of the out of phase signal are not really identical, you actually introduce distortion. You have to be meticulously, a detail devil to make truly balanced equipment, which actually works the way it's supposed to and add benefit. But again, apart from that, we don't use any global feedback; we use discrete components (bipolar). We do that in the Signature Series as well, but with the Masterpiece Series we take it to the next level of everything. We pay a huge level of detail to the power supply on the Masterpiece Series. We separate things. I was talking about the Masterpiece Line Stage before with its external power supply. A better example in this particular case is the Masterpiece Series Mono Amplifier. It's one pair of mono amps in four chassis. Each channel has two chassis. Not only is the power supply separate, but all the logic, the microprocessor as well. Everything that really hasn't got anything to do with sound, but features and functionality is taken completely away from what works on the signals. That's then completely isolated in one chassis. There are a lot of drawbacks from doing that, which we then need to work around. It's really complex and takes a long time to get it done in a proper manor. The technology for all our series is the same. We don't have one technology for the Signature Series, Reference Series and Masterpiece Series. It's the same basic technology that we use, but it's the level of execution that really makes the difference.".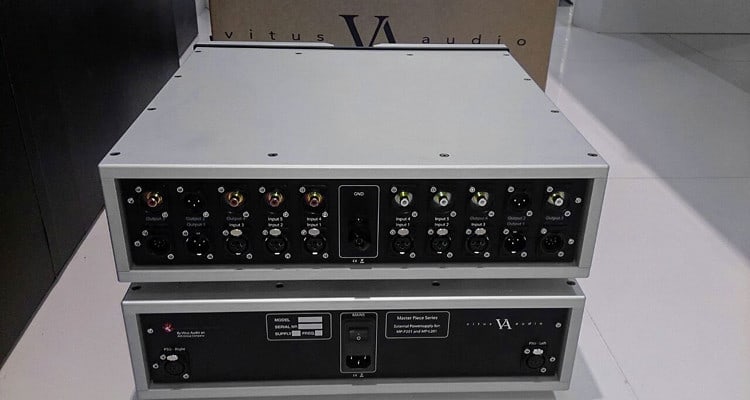 Visit the Vitus Audio website.