The Zappiti Signature is a high-end media player. Currently Zappiti has a range of three players, all at different performance levels. There's the Zappiti NEO, an entry-level media player, the Zappiti Reference, a dedicated media player with true high-end aspirations. The Zappiti Signature carries all the latest technology and is packed with top-notch components. A true signature product. With all of the 3 Zappiti products you can stream media from a local NAS over the internet or play them directly from internal hard drives at which point the Zappiti acts as a media server. The brand also offers their own NAS to back-up and store your music and video library to enjoy them in every room of your home.
Brand
Zappiti is a French manufacturer of 4K media platforms and media center solutions. Since 2010 the company designs and builds connected 4K media players, set-top-boxes and video servers. The development center is located in Montpellier, in the South of France.
Current price
The Zappiti Signature is currently offered for 2.699 euro. It's only available in black and can be used as a stand-alone component or installed in a 19" rack.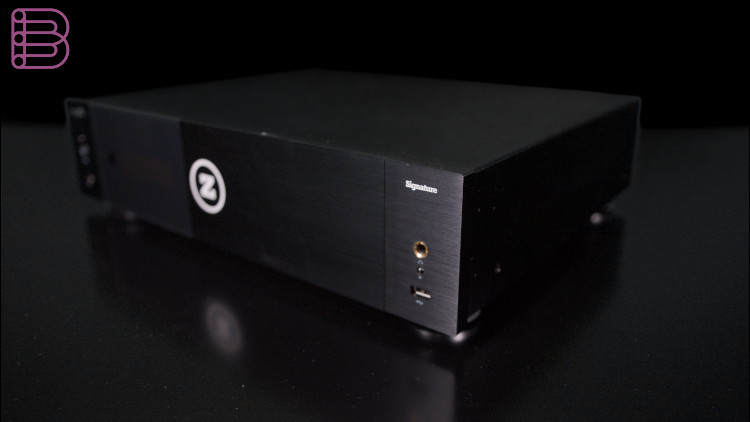 What's in the box
Besides the unit itself, you'll find a lot of accessories in the box: a HQ backlit remote control, an IR extender, two wi-fi extenders, a Bluetooth antenna, different types of power cables and more.
Features
The features list of the Zappiti Signature is simply stunning! The unit can playback up to 4K/60fps content from hard drives or network with bit rates up to 400Mbps. The best possible picture technologies are available through Dolby Vision, HDR and HDR10+ support. The Zappiti Signature includes Zappiti Video, one of the best entertainment hubs available on the market. With its dual 3,5" SATA hot-swap rack, the unit can support up to 40TB of internal storage (the equivalent of 800 Blu-rays or 400 4K Ultra HD Blu-rays). The dual HDMI ouput is King, making it possible to separate the audio and video signal for best possible performance. What about the massive dual R-core power supply with separated circuits for analog and digital. It offers crystal sharp picture, extreme black depth and noise-free audio outputs providing a more natural sound with faster dynamics. The Zappiti Signature utilizes hi-end components, such as JEC power connectors, Neutrik audio connectors, Philips diodes, Nichicon and Nippon capacitators and WIMA filter capacitators to name a few. Enthusiasts will be thrilled to hear that the Signature is based on the premium 32-bit ESS ES9038PRO DAC with industries leading low level distortion characteristics. Stereo lovers will be pleased with the analog audio output, offering both RCA and XLR connectors. The dynamic range runs up to 140dB and of course lossless multichannel audio is supported: Dolby Atmos, Dolby True HD, DTS:X, DTS-HD Laster Audio and Direct DSD mode. The features list isn't finished by a long shot, but I think we've covered the most important ones.
Front side
Let's check out the front panel. On the left side is the power button with LED indicator and a USB input. Middle left you'll find the display window, middle right the HDD bay door. On the right site you can connect a headphone. There's also a second USB input.
Back side
Moving on to the back panel. There are 3 gold plated connectors for 2 wi-fi antennas and one Bluetooth antenna. From left to right: an analog stereo ouput with both RCA and XLR connectors, digital stereo inputs (optical as well as coaxial) and a digital stereo coaxial output. This concludes the hi-fi audio section. Further to the right there's a cinch analogue and digital coaxial output, a video CVBS output and a digital optical output. Next is the HDMI audio only output (1.4a) and the main HDMI out (2.0b). There's a HDMI input, a connector for the IR expander, a LAN connector and USB type 2.0, C and 3.1 connectors. On the right side you can connect the unit to the mains and can see the unit's fuse.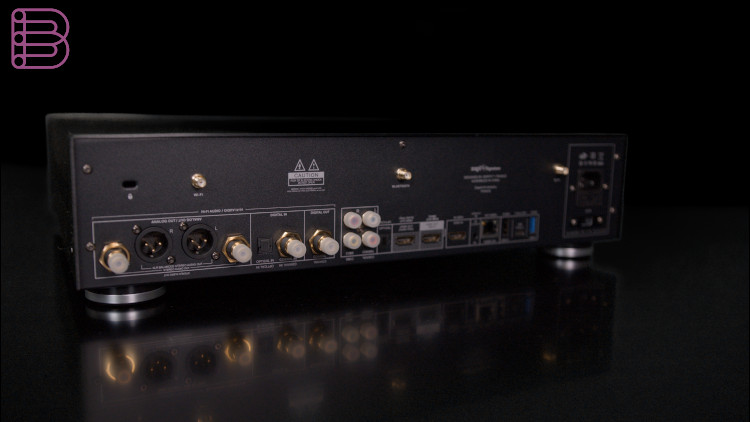 For whom is this product
The Zappiti Signature is a go-to product for home cinema purists. It's completely up to spec, supporting the latest audio and video formats.
First impression
Zappiti went all the way to deliver a true hi-end product and packed the Signature with top-quality components to deliver the highest possible performance. The concept of using the unit as a DAC might both be compelling and practical for people with more traditional gear.
Conclusion
If you are looking for one of the best media player platforms available today, your search might have just ended.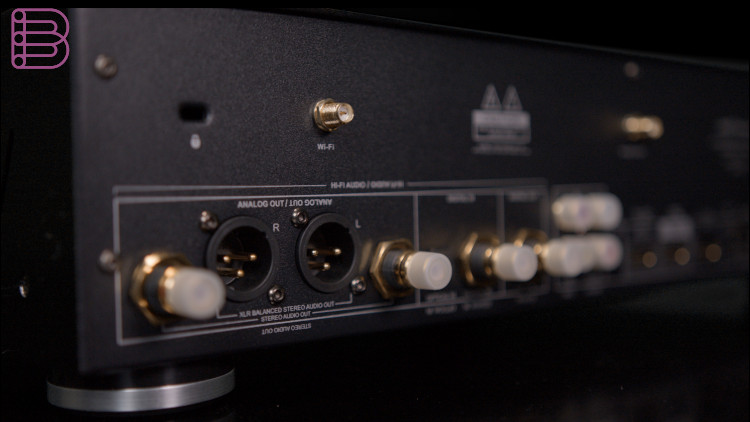 More details about the Zappiti Signature.
Visit the Zappiti homepage.