Vestbo Trio recorded their new album "Gentlemen…" in Mark Knopfler's studio British Grove in London. When the album came out earlier this year it shot straight to #1 on the Danish iTunes Jazz chart. The album received a Staff Pick Mention on Bandcamp, and the LP went all the way to #1 on the official Danish Vinyl Top 40. Radio airplay followed, as did music features on national TV. Not bad for an instrumental release by an independent band!
Recording in Mark Knopfler's studio
We caught up with Michael Vestbo to hear more about Vestbo Trio's music, how the band share an interest in hi-fi, and last but not least, how Vestbo Trio's cooperation with Peter Lyngdorf and a shared passion for well-recorded music led to Vestbo Trio recording in Mark Knopfler's studio.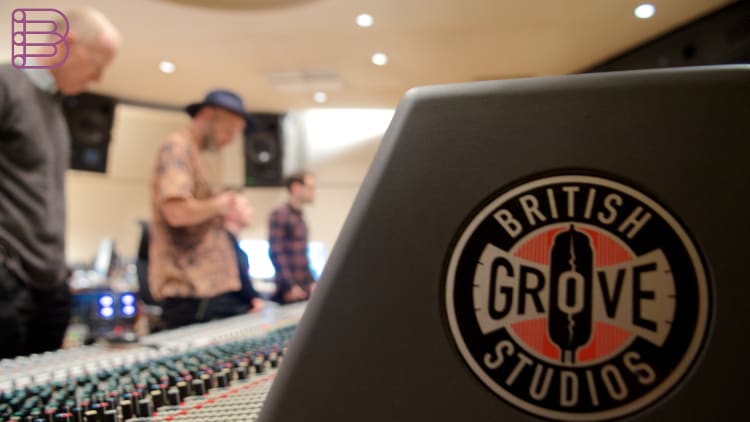 The story of Vestbo Trio
Well, that's easy to understand when you hear the story:
We've been playing since 2008. We made an EP in 2010, and our first real album "Less talk…" followed in 2012. Being an independent band, we knew we had to find somebody to work with to get the music out to people. We started working with Hi-Fi Klubben (a chain of hi-fi retail stores founded by Peter Lyngdorf). The idea was to play intimate live shows in Hi-Fi Klubben's stores in the evening when the stores were closed. People would get the special experience of a live show with only 30-40 people in the room, and sitting very close to the band. No stage, no PA, just the sound of the band playing live in the room. It's a special thing to visit a hi-fi store in the evening and experience something cool without having to buy anything. People would have a great night and they'd go out and tell the story to their friends. This would help build a great reputation both for us and for Hi-Fi Klubben, with the shared love of music as a common denominator. Pretty cool! The shows were a huge succes and we've played in many of Hi-Fi Klubben's stores through the years. This has helped us build a fan base across Denmark, and in The Netherlands too.Michael Vestbo – Gitarist and bandleader
The live-in-the-studio release "Flowmotion" followed in 2013, and the release was available in 24bit/96kHz on Vestbo Trio's website. Many hi-fi enthusiasts purchased "Flowmotion" making it clear to Vestbo Trio, that great music with great sound was indeed in demand out there. In 2015, Vestbo Trio released their next album "While You Were Gone", produced by Danish rock guitarist Lars Skjærbæk. Gritty and with an edge, this release – along with extensive touring – earned Vestbo Trio many new fans, and also a spot on the DALI CD #4.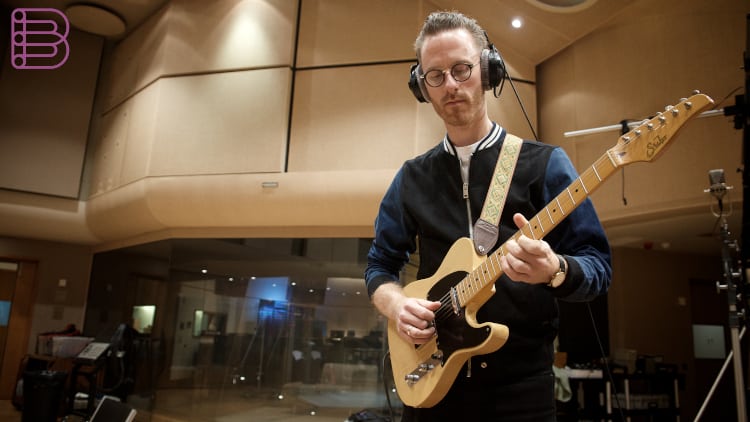 It was meeting Peter Lyngdorf that made the band fully realize the importance of preserving the full dynamic range when making an album. Peter has opened our ears and helped us a lot. We went to Peter's home and listened to the master for our "While You Were Gone" album – which we thought sounded awesome! – but then Peter asked us to make a new master that was uncompressed. The next time we went to Peter's place we compared the two masters and the difference was incredible! Everything felt more alive, and the punch and musicality was just… right there on the uncompressed master! And in such a cool way. You could hear the transcients from the kick drum and the upright bass, but you could really feel it too. And the space between the notes became a lot more apparent because there was no flubbyness in the low end. It was so cool, we had to continue down this path.

This is sort of our thing. We play instrumental music, and it's guitar, bass and drums so it has many elements from jazz music: Interplay, dynamics, improvisation, something new happens every night and so on. We like that a lot! At the same time, we play a lot of other stuff too: We all come from a background of playing blues, rock, pop and folky singer/songwriter stuff. What's cool about that kind of music is the production aspect and the intention to reach and really connect with the listener – the sounds are tweaked so they're just right, the tracks are kept somewhat short, nobody takes a solo that goes on forever, and the visual aspect with album artwork and so on is very important. We try to combine all this in Vestbo Trio.

When I was studying guitar at the Royal Academy of Music in Aarhus, Denmark, I would play all sorts of complicated music in school and try to understand jazz and advanced music theory etc. Then afterwards I'd go home and listen to Dylan's "Blood on the tracks" album because… well, you just can't beat that stuff for sheer emotion and musicality. And there's no guitar solos! I like that! It's just music, great music that grabs you". I wanted to make great music with my own band, and that's how Vestbo Trio was born.Michael Vestbo – Gitarist and bandleader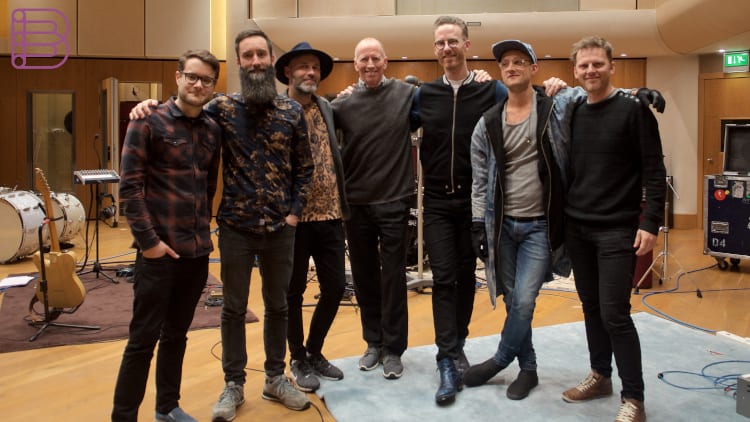 Get into the British Grove!
Fast-forward to 2017, Michael wrote an email to Peter Lyngdorf with a crazy idea: How about reaching out to Mark Knopfler's studio "British Grove" and try to get in there to record Vestbo Trio's new album? Peter liked the idea, and all of a sudden there was the unexpected option of actually doing this: Peter has supplied some of his Lyngdorf equipment to Knopfler's studio through the years. He knows Mark Knopfler personally and they share a passion for great music and superior recording quality – you know, doing it right because it's important! The Vestbo Trio jumped on this opprtunity right away of course!
British Grove is one of the best recording studios in the world. Recent albums that have been recorded there are Rolling's Stones' "Blue & Lonesome" and the Eric Clapton album "I Still Do". And of course, Mark Knopfler's solo albums.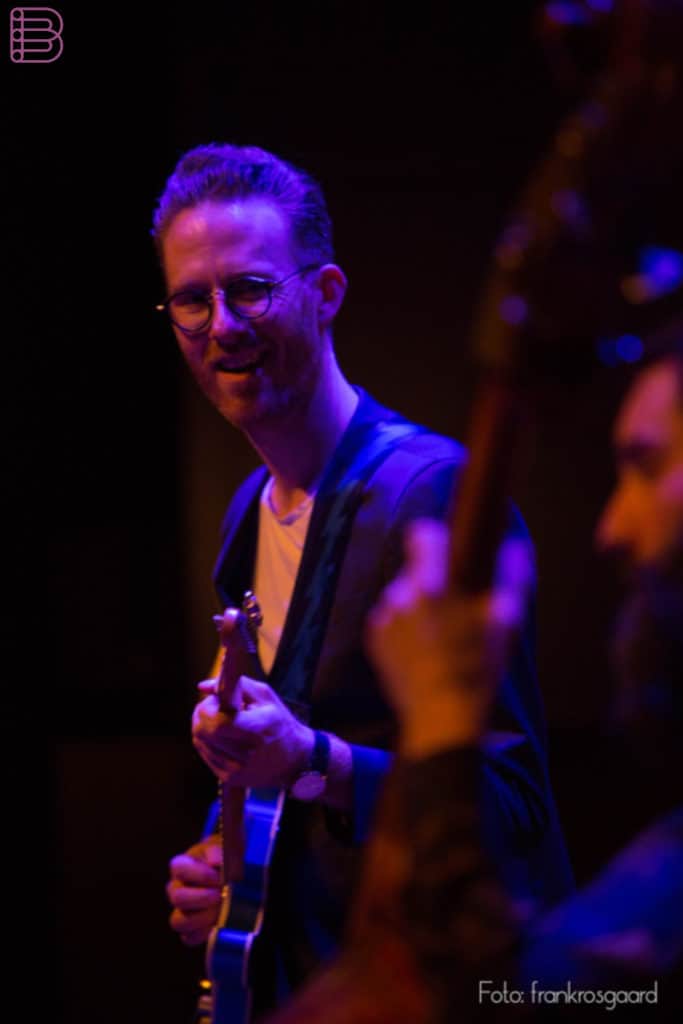 I'm a BIG fan of Mark Knopfler. The Dire Straits albums sparked my interest in the guitar when I was a kid, and I just love Knopfler's music and his guitar playing. It's very cool and beautiful, and it's a great mix of a swampy USA blues/rock kind of thing, and a Scottish, folky not-so-swampy kind of thing. It's really unique!

Recording in British Grove was "like driving a Mercedes". It felt easy, smooth, and we enjoyed every bit of the ride. Of course sometimes you're on a roll and sometimes you have to work very hard to find the right solutions and play great together. But everytime we felt stuck we would go into the control room and listen to the takes through the 96-channel Neve console, and the music would play through the biggest ATC monitors we've ever seen.

Complaining about anything in a place like British Grove would be ridiculous", Michael says. "I've never heard a sound system sound so good in my life. Absolutely extraordinary, and it was OUR music that came through – crazy cool!.

Of course, great sound alone doesn't make a great album. We were very conscious of the fact that even though the sound is incredible, that's only part of it. The music has to be great too, that's even more important than the quality of the recording. We worked really hard and we feel we've accomplished our goal: To make an album that sounds awesome, where the music is beautiful and interesting and takes you all the way from a soft ballad to a punchy drum solo and overdriven guitar tones. People from all over the world have written to us that they love the music, and told us how they enjoy listening to the album on their hi-fi systems at home – and that's really what it's about for us. Reaching listeners.Michael Vestbo – Gitarist and bandleader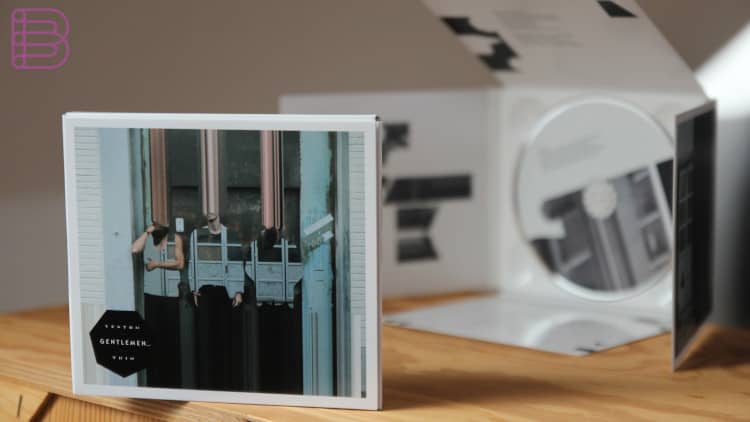 Check out the movie for fly-on-the-wall access to Vestbo Trio's session at British Grove. Also, be sure to catch Vestbo Trio live if you're near Denmark this Fall (they're on a 3-week tour in Sept/Oct), or in Germany next year (show dates TBA).

All 6 Vestbo Trio releases are available on LP, CD and as high-quality downloads on www.vestbotrio.com

The music is also on Spotify, TIDAL etc.

Facebook: www.facebook.com/VestboTrio
Instagram: www.instagram.com/vestbotrio