Silent Angel employs an uncompromising approach towards designing and executing electronic circuits. Isolating, filtering and reducing noise preserves the integrity of the source and delivers a pure signal to connected components. As with all Silent Angel products, their objective is to ensure the device operates at a stable system voltage, sends precisely timed packets and reduces extraneous output noise. We have found that even the smallest enhancement can slightly improve sound quality and the implementation of many small enhancements can unleash the ultimate potential of High Resolution Streaming Networks. Bonn NX is the culmination of everything the company has learned about engineering Audio-Grade Network Switches: it delivers the highest sonic performance currently available.
For serious audiophiles
Eight richly gold-plated Gigabit Ethernet Ports feature critically spaced ports calculated to minimize potential signal interference.
Class-leading Radar-Grade internal switching power supply module, a technology exclusive to noise-sensitive acoustic equipment.
Perfectly timed data transmission.
TCXO (Temperature Compensation Crystal Oscillator) greatly lowers network latency issues and jitter effects.
Brand new chassis design consists of two layers of different, carefully chosen materials: the inner layer is galvanized steel while the outer layer is thick, high-quality aluminum alloy. This extravagant construction maximizes shielding and control of eddy currents while damping vibration and noise. Sleek modern design adds great aesthetic appeal, making Bonn NX a functional work of audio art.
12V DC power jack bypasses the internal switching power module, enabling connection to an external linear power supply (Forester) for a significant performance upgrade.
Gold-plated ground connection terminal provides further noise reduction.
LED light switch enables users to turn off the port status indicator.
Class-leading clock receiving module allows external clock input.
Crafted of solid, high purity stainless steel, Silent Angel's Resonance Control Feet damp mechanical energy from both internal and external sources, reducing mechanical and electrical noise, static electricity, etc. The result is improved dynamics and an increased resolution of fine detail.
Connect Bonn NX to Silent Angel's Forester F2 linear power supply (supplying dual 12 volt DC outputs) to further improve power delivery and stability.
Silent Angel created the Genesis GX to be the ultimate audiophile Word Clock: take your system to the next level with Genesis.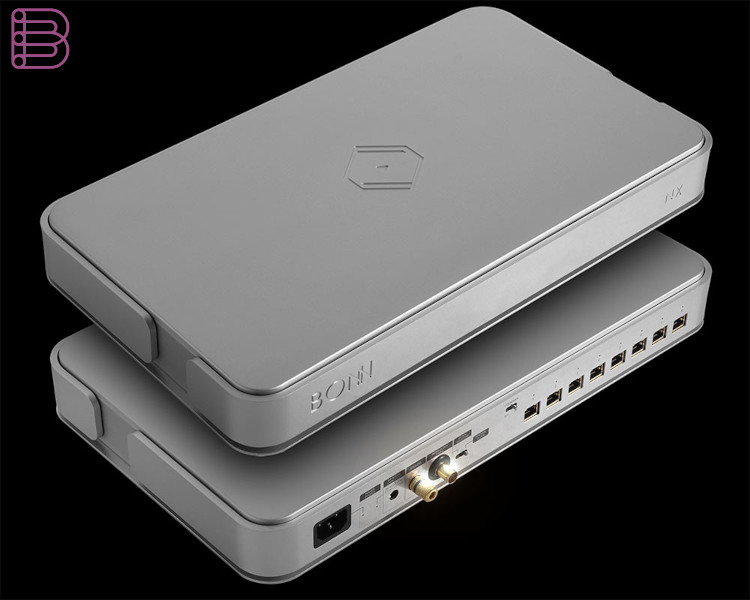 For HD music streaming
The Bonn NX creates a dedicated HiFi zone to effectively isolate your audio devices from other digital traffic, thereby eliminating noise and transmitting data with extreme timing accuracy. Implementing an isolated "Network Ecosystem" for audio eliminates degradation from the storm of network interference and latency issues caused by bandwidth-intensive activities from PCs and other connected devices.
Optimized for Roon infrastructure; for example, supporting a network composed of Rhein Z1 as a Roon Core server or Munich M1 as a Roon Ready player.
Optimized for high-resolution streaming services such as Tidal, Qobuz, Spotify and more.
Optimized for playing music collections from NAS (Network Attached Storage). Works well with multiple brands including QNAP, Synology, WD NAS.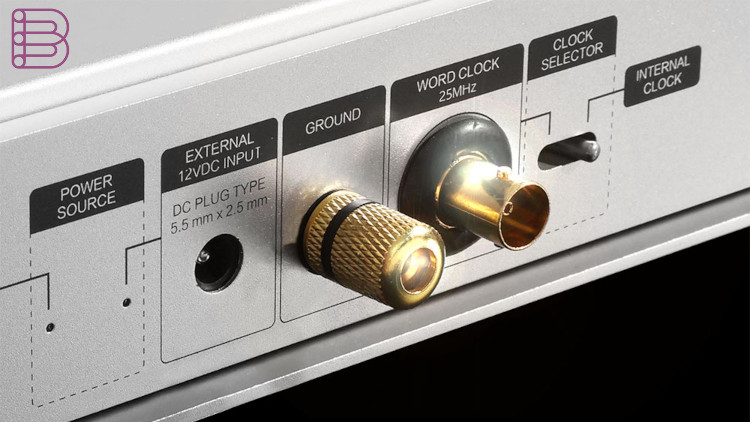 All details on the Silent Angel Bonn NX network switch.
Visit the Silent Angel website.