McIntosh is back. Back with a superb addition to their already impressive product portfolio. The American manufacturer introduces a very powerful 2-channel digital amplifier. Let's crunch some numbers. The model is called the McIntosh MI502. Let's recap. It's a 2-channel amplifier that delivers 500Watts/8Ohm. Naming it the MI502 sounds kinda logical now doesn't it? Crank It up little? Sure. What about 800Watts/4Ohm. With that kind of power one could power almost every loudspeaker on the planet, right?
Flexible custom install product
This new McIntosh product could be very interesting for custom installed home audio or home cinema systems. The secret of producing that amount of output power lies in the use of high-tech closed loop digital switching in combination with resilient power supplies. This all adds up to a level of performance that's very rare in custom install audio. Use it to power your 2 front speakers or 2 in-wall subs. Stack 'm up to chain up! The McIntosh MI502 is of course rack mountable and takes up 2U of space. The mounting brackets are included and can be removed for non-rack installations. As a very efficient Class D amplifier it doesn't need big cooling fans that make a lot of noise to maintain nominal operating temperature levels. What's on the front? Right. The famous McIntosh level meters. On the back you'll find a pair of balanced and unbalanced inputs. The 5-way binding posts offer a way to connect your speakers.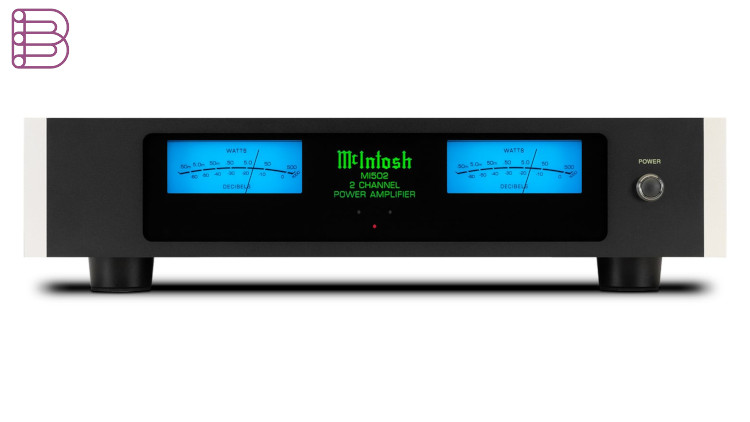 Typical features
Power Guard® signal overload technology that prevents overdriving the speakers
Sentry Monitor™ short-circuit protection circuit that disengages the output stage before current exceeds safe operating levels and then resets automatically when operating conditions return to normal
Power Control 12 Volt triggering capabilities
Eco-friendly on/off signal sensing that turns the unit off if no input signal has been detected for a set amount of time or automatically turns the amp on when it senses a signal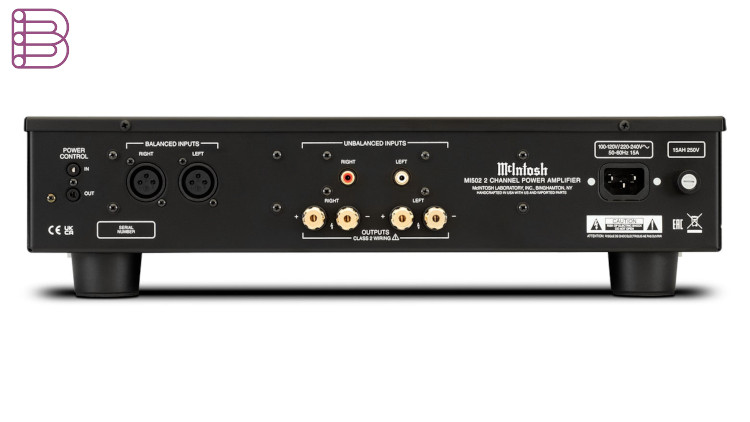 More information about the McIntosh MI502 2-channel digital amplifier.
Visit the McIntosh website.