The 255i is Perreaux's most powerful, most sophisticated integrated amplifier. It's performance and specifications are truly impressive, but hearing the 255i is when you will truly appreciate the quality engineering, design and craftsmanship. The 255i is the most advanced integrated amplifier Perreaux has ever produced. Optional internal 32-bit/384kHz Digital to Analogue Converter (DAC) and Moving Magnet/Moving Coil (MM/MC) Phono Preamplifier modules ensure complete integration of digital source components (such as network music servers and set-top digital receivers), as well as turntables, into a high-performance system.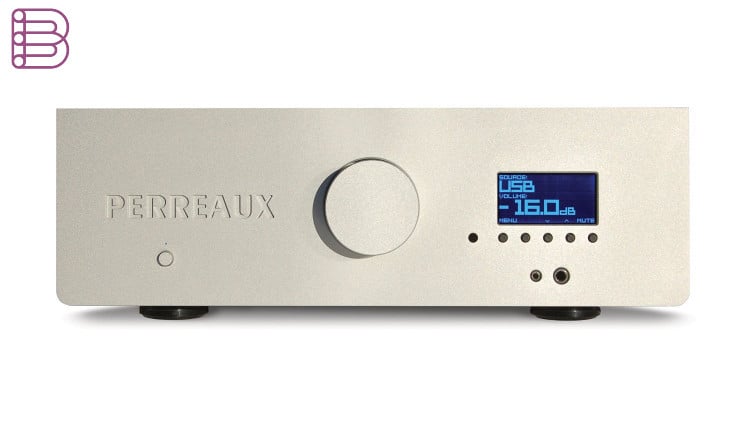 Perreaux 225i features
High Power Design
The 255i is designed to handle difficult speaker loads with ease. With it's high powered MOSFET design, the 255i is capable of continuously delivering a genuine 360Wrms into an 8Ω load and a huge 530Wrms into 4Ω.
High-current Custom Power Supply
At the heart of any great amplifier is a great power supply. 3 separate transformers feeding 4 independent power supplies ensure the 255i will drive difficult speakers with ease, producing controlled, quality audio.
High Damping Factor
The 255i's performance features a high damping factor. Ensuring absolute authority and control of any loudspeaker.
Advanced Microprocessor Control
The extensive range of user functions and complex functions are managed by a powerful onboard microprocessor. This gives you more control but is electrically isolated from the audio paths, ensuring faithful sound reproduction.
Advanced Stepped Volume Control
3rd generation microprocessor controlled analogue volume control. The éloquence has advanced all the benefits of a pure unaltered analogue signal path which is merely "switched" to your exact desired volume. This gives you convenience and complete control with the cleanest signal path possible.
Advanced Lossless Stepped Off-Set Balance Control
3rd generation microprocessor controlled analogue balance control. There is no loss of music quality due to the left and right volume controls being analogue "switched" independently without added circuitry. This is the ultimate in allowing you to perfectly adjust the balance volume left or right without signal loss.
Non-Invasive Protection
The 255i features sophisticated microprocessor protection for the amplifier and connected load. The protection covers supply (soft-charge), over-current, over-temperature, DC offset, internal AC supply and DC fuse protection. The protection is non-invasive and does not degrade the signal path.
Internal Headphone Amplifier
The headphone amplifier gives the user all the benefits of the 255i's engineering and design advances, with the convenience of headphones.
Dual sets of speaker binding posts
For ease of bi-wiring loudspeakers and enhanced sound quality.
Balanced (XLR) input
For use with balanced sources. Enabling you to take full advantage of the benefits of balanced audio.
Home Theatre/Pass-Through Loop
Allows the integration of the éloquence into a home theatre/external system as a two channel power amp, then back to full a stereo integrated for music listening.
iPod Input
Plug your iPod directly into the front panel for convenient iPod connectivity.
IR (infrared) input and output
Enables additional remote control options to be connected and controlled by the éloquence Integrated Amplifier.
Trigger input and output
Allows the 255i to have standby contol over, or be controlled by, connected equipment. Offering high system integration and convenience.
Isolation Feet Options
To minimize vibrations, aftermarket "feet" can be easily attached if desired. Also, the éloquence has the ability to go from 4 feet to 3 feet to further ensure mechanical isolation.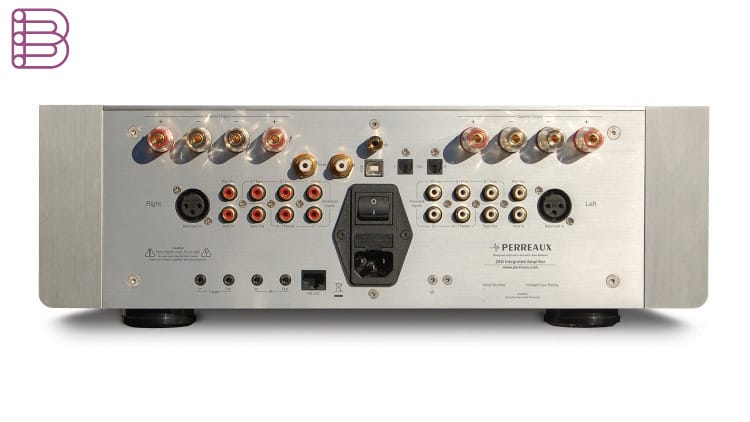 Visit the Perreaux website.