The MXA80 Integrated Audio System is the next generation of the acclaimed MXA70. It maintains the same compact footprint and full functionality while adding support for DSD and DXD digital music files thanks to a new digital-to-analog converter (DAC).
McIntosh MXA80 features
The MXA80 features a 50 watt stereo amplifier and a pair of specially designed 2-way desktop speakers that achieve a remarkably rich and full bodied level of performance for their size. A total of six inputs: 4 digital and 2 analog – allows for connecting a variety of music sources. The USB input accepts PCM signals up to 32-bit/384kHz and supports DSD64, DSD128 and DSD256 along with DXD 352.8kHz and DXD 384kHz. The exclusive MCT input offers a secure DSD connection to enjoy the high definition audio on SACDs when paired with the MCT450 SACD/CD Transport (sold separately).
A dedicated headphone amplifier is available for those times when you want to listen to your music more intimately. It takes advantage of unique McIntosh technologies so that every headphone yields the best possible personal listening experience. Headphone Crossfeed Director (HXD®) brings added dimension to the music while Power Guard® prevents clipping that could damage the speakers or headphones. A 5 step Bass Boost Control allows for further tonal customization.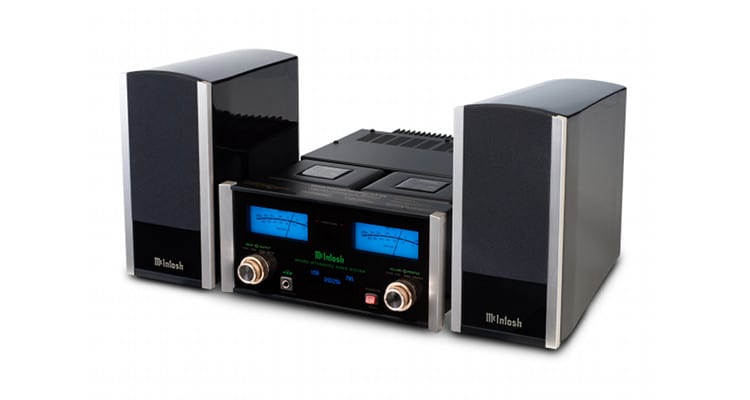 Office, bedroom or vacation house?
The MXA80's compact size makes it a great audio system for an office, bedroom or vacation house. Combine it with the similarly-sized MB50 Streaming Audio Player (shown below) and MP100 Phono Preamplifier (both sold separately) to form the basis of a complete audio system. The amplifier is housed in a beautiful polished stainless steel chassis that compliments the classic glass front panel, knobs and brushed aluminum end caps; the speakers come with a luxurious, high gloss piano black finish.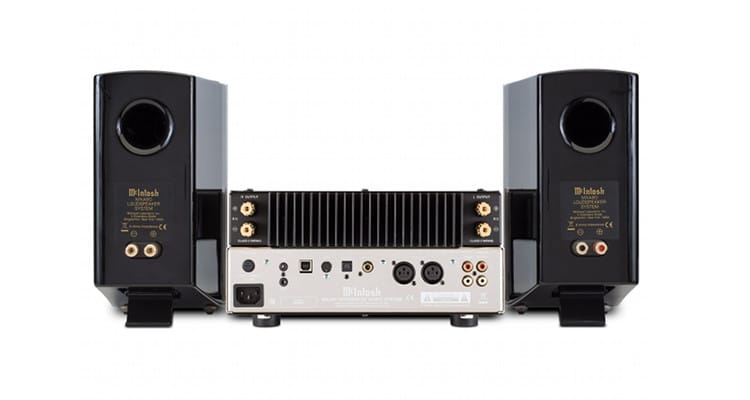 Visit the McIntosh MXA80 product page.