The very first product of Marantz was a high-quality preamplifier designed to make the most of the then-new LP record format. And with a history stretching all the way to that ground-breaking Audio Consolette – which Saul B Marantz started manufacturing in 1952, and which soon became the first real Marantz product, the Model 1 preamplifier – , it's no surprise that the company's very latest Premium Series model, the PM-10, is an integrated amplifier built to set new standards with all of today's music formats. In fact, this massively powerful integrated amplifier is constructed more like a high-end separate preamplifier and a pair of monobloc power amps, but all in one beautifully finished case, designed both to maximise performance and create a strong visual statement.
Marantz PM-10 integrated amplifier
Making an integrated amplifier with dual monobloc design fitting in a normal size cabinet is made possible by the use of a stereo switching amplifier. Its aim? To reveal the maximum musical involvement from everything from LPs to the latest high-resolution audio files and beyond, and with all the power and control required to drive the most demanding loudspeakers, allowing them to perform at their best.
The new reference class Integrated amplifier
Four switching power amplifier channels in bridged mode (two per channel) for maximum grip and drive
True Balanced Concept from input to speaker to realise ground-free signal management
Massive power: 200Wpc per channel into 8ohms, and 400Wpc into 4ohms
Easy driving of a wide range of speakers
Wide-ranging dynamic ability thanks to instant high-current power supply
Fully balanced throughout: both preamplifier and power amplifiers
Marantz Hyper Dynamic Amplifier Modules (HDAM) in preamp stage
Dual mono power amplifier configuration
Separate power supplies for preamplifier and control processor, and for each power amp channel
Discrete phono stage for moving coil and moving magnet cartridges in its own shielded case
High-quality construction with double-layer chassis, 5mm thick aluminium top lid, solid aluminium front, copper plated chassis and high-purity copper speakers terminals
Double thickness copper PCB for the output section and main power supplies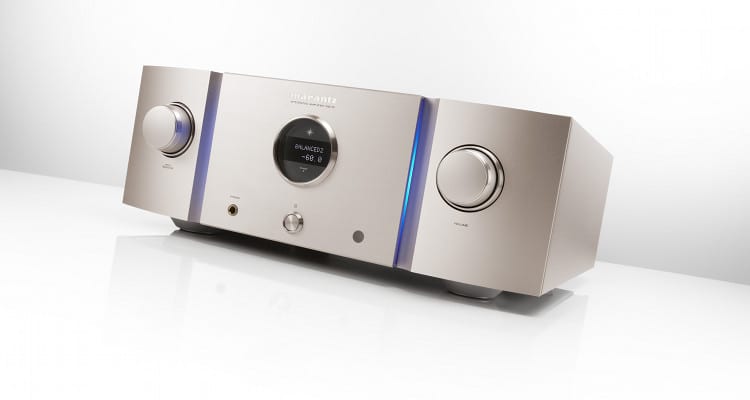 Marantz SA-10 high-end player
The new Marantz SA-10 is the latest model in a range of high-end players stretching all the way back to the dawn of CD: in the original CD-63, launched in 1983, it had the first high-end performance-tuned CD player, and that expertise has continued to be developed over more than 30 years. The SA-10 is designed to sets new standards, whether with music on disc or content streamed from a computer, and to become the New Reference in digital audio. To achieve that, the SA-10 is a completely new design, drawing on all that experience in making great-sounding players but with virtually every part redesigned. That involved both innovation and some unique thinking, all in the cause of getting the best possible performance across a wide range of digital audio formats. The new model is an exceptional player of both CD and SACD discs, but can also play high-resolution music stored on computer-burned discs, as well as being a high-end digital to analogue converter for computer-stored music.
From the unique new disc transport designed for this player all the way through to a complete rethink of the way digital audio data is converted into analogue signals, the SA-10 is a 'clean sheet' design, the result of painstaking research and development and extensive listening in Marantz's custom-built listening facilities. That's symptomatic of the way Marantz has always done things: while it always aims for the most elegant engineering solution, the listening test is always the final arbiter. It's all to do with that simple phrase running through the heart of everything the company does: 'Because Music Matters'.
All-new SACD-M3 transport mechanism for CD, Super Audio CD and more
Playback of high-resolution audio compilations on DVD-ROM
USB input for hi-res audio up to PCM / DXD 384kHz/32bit and DSD11.2MHz
Isolation of USB and digital inputs to remove noise from connected sources
Innovative upsampling to DSD and filtering using unique Marantz Musical Mastering – Stream technology
All-new custom-designed 1-bit direct Marantz Musical Mastering -Conversion from DSD to analogue
High-quality analogue output stage with Marantz HDAMs
Generous power supply using toroidal transformer
Dedicated headphone amplifier with all-discrete construction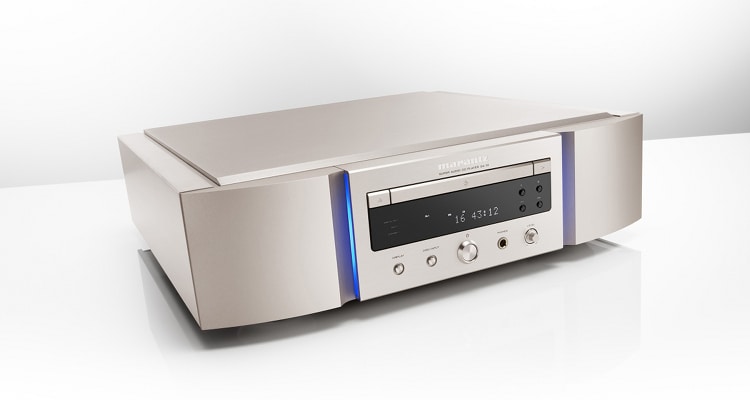 More details of the Marantz PM-10.
Mored details of the Marantz SA-10.