This unique system is designed to achieve, at all loudness, the purest musicality and most intelligible bass performance we've experienced. The Monslavat performance is all about providing an outstanding level of musical satisfaction where Verity Audio engineers spared no efforts in achieving this ultimate goal. The Monsalvat utilizes a unique system for bass rendition. It comes with an impressive number of large diameter transducers qualified to restitute, at a high precision level, the deepest notes. Also, the woofer towers are configured to be corner-installed giving an accurate performance throughout the whole listening room.
Over the years, our researches in sound reproduction have shown that a multi-amplified loudspeaker will achieve its optimal performance when identical amplifiers are used throughout the whole system. The bass towers of the Monsalvat are not amplified, leaving the choice of amplification to the customer so that the same amplifier can be used for all modules. The Verity Audio Montsalvat requires 6-channel of amplification, that can either be user-selected or endorsed by Verity Audio. It's a sophisticated system composed of two main tower units – two distinct low-bass towers and a singular active crossover device.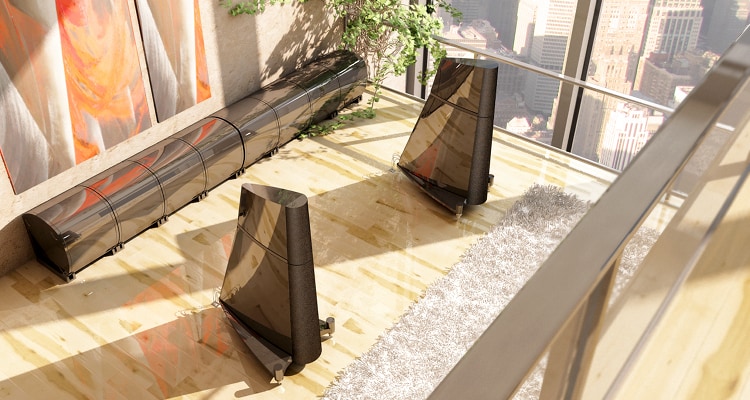 Verity Audio Montsalvat features
Efficiency of 99 dB @ 2.83 Vrms & 1 meter on axis;
Bandwidth of 15 Hz to 60,000 Hz;
All custom-made and proprietary transducers using state-of-the-art technologies;
Resonance free, pure Verity Audio aluminum foil ribbon tweeter;
Main Tower Transducers: proprietary 6″ (150mm) midrange, proprietary 9″ (229mm), lower-midranges x 4;
Woofer Tower Transducers proprietary 15″ (380mm) woofers x 4 4 attached cabinet per tower can be placed vertical or horizontal;
Active Crossover: 32 bit / 384 Khz, 2 RCA / XLR stereo inputs, 2 x 3 RCA / XLR multi-way outputs (Low, Mid, High), Separate power supply, Adjustable time-delay;
Wide amplification selection possible starting at 5 watts up to unlimited power;
Designed for multi-amplification:
Beautifully crafted and finished with exquisite Italian lacquer.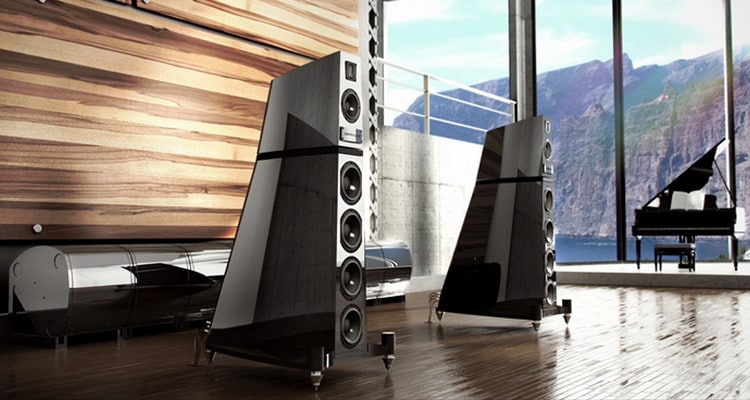 More details on the Verity Audio website.