Honestly? It's been a while since I reviewed gear. The last three months I chewed a lot of Dolby Atmos, Auro-3D and DTS:X. At that time, stereo felt like a previous lifetime, like an ex-wife which you never want to see (or hear) again. So I felt the urge to test, to review, hell yeah to listen to something else. Back to basics? Why not? Lyngdorf announced a new amplifier: a digital stereo streaming amplifier. Yes, that's it! A pair of speakers and I'm ready to go…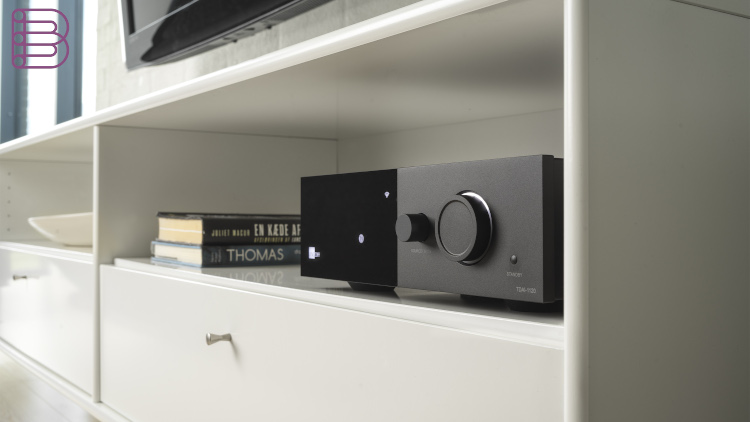 Streaming first
If I read Lyngdorf, I think RoomPerfect. Check. If I read streaming, I think Tidal on my iPhone or iPad Pro. Check check. The setup of the Lyngdorf TDAI-1120 should be a walk in the park. Ready, set, go. I made a phonecall to arrange this review. Three days later the product arrived at my doorstep. No sweat. Ready to rumble!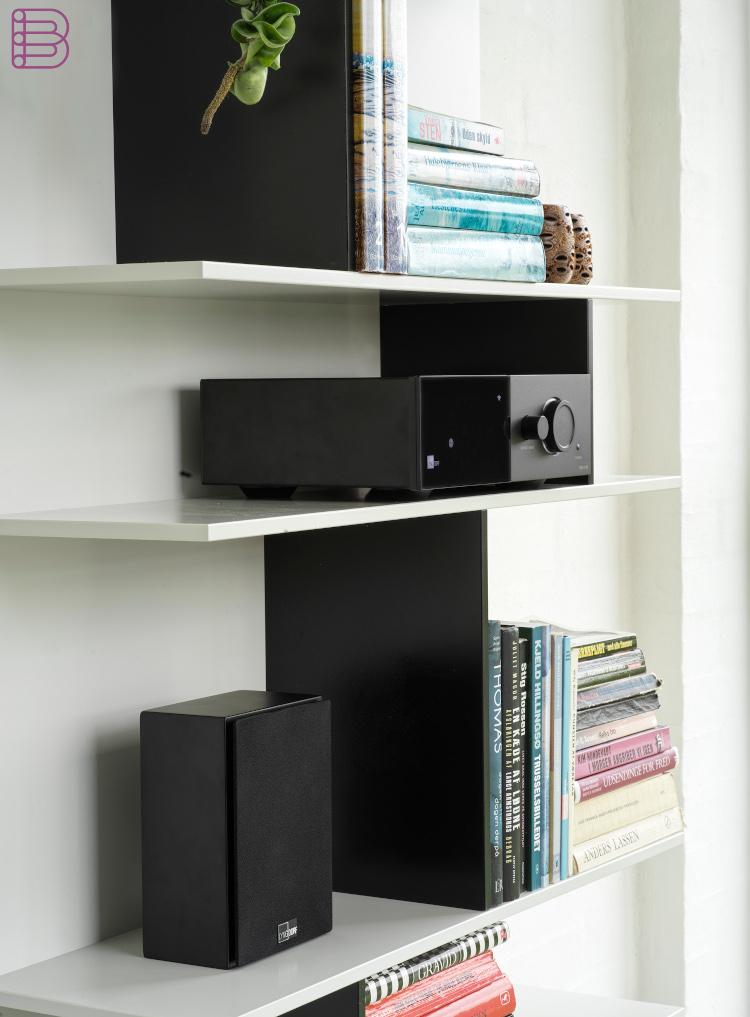 The baby in the room
The TDAI-1120 will be the cheapest Lyngdorf to date. For as little as €2.000 you get a 2 x 120 Watts (4 Ohm) digital amplifier, RoomPerfect, lots of I/O, the availability to connect up to 2 subwoofers, app or browser control, a streaming first approach and an incredible small footprint. What a surprise when I unboxed this newest Lyngdorf. I was going like: 'Oooh, look, it's a baby Lyngdorf!? So cute…'. I didn't realise that this wasn't your regular size component. As the physical size of the amp suddenly got smaller, my expectations just got bigger! How to call this cute 'baby Lyn-kie-dorf'? Setup was childsplay. I placed the amp, connected it to the mains, plugged in the network cable and hooked it up to a pair of Dali Ikon 5 speakers. Done. I connected to the Lyngdorf TDAI-1120 using safari on my iPad Pro. I went through the RoomPerfect setup in a few minutes. Ready for some music. I switched to the Tidal app on my iPad and the amplifier appeared immediately when I pinched the 'Airplay & Bluetooth' menu. We're off…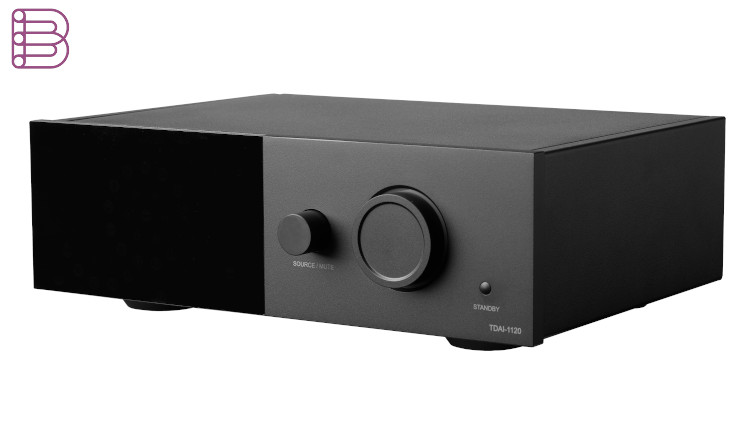 New entry level reference
My idea was to match the smalest member of the Lyndorf family with a nice pair of entry level speakers like the Dali Ikon 5. First up was Grassland from the Vestbo Trio. Besides the obvious of being an amazing piece of music, I love this track for the dynamics of the big drum and the sublime transient response and airiness. The Dali's presented themselves as fast, crisp and punchy. Switching between the 'Focus 1' and 'Global' position altered the musical presentation from tight with pinpoint accuracy to somewhat more relaxed with more weight and volume in the lower frequencies. Interesting!
I love the new 'Bond song' from Billie. No time to die sounds awesome if you post process it to any immersive 3D sound format. Will the stereo version pull me in, be as engaging and enveloping as the surround playback? Yes and no. Her voice sounded more open, with a lot of microdetail. Eilish was almost standing before me in the room. Very enjoyable! The decor was missing. In Atmos for example you're litterarely surrounded by the orchestra. In stereo you must be content with a 2-dimensional presentation. Let's turn it up a notch! I always listen at 'live' levels. That means 90dB with peaks up to a 100dB. Both the amplifier and speakers were fine with that.
Well, the woofers got their fair share with the Chinese drum track. I'm so used to listening 'full range' that I now noticed that the Lyngdorf TDAI-1120 pushed out the lowest possible frequencies the Ikon 5 was able to produce with power, punch and dynamics. The bass never got overblown or too heavy. I could feel the drums. Very nice.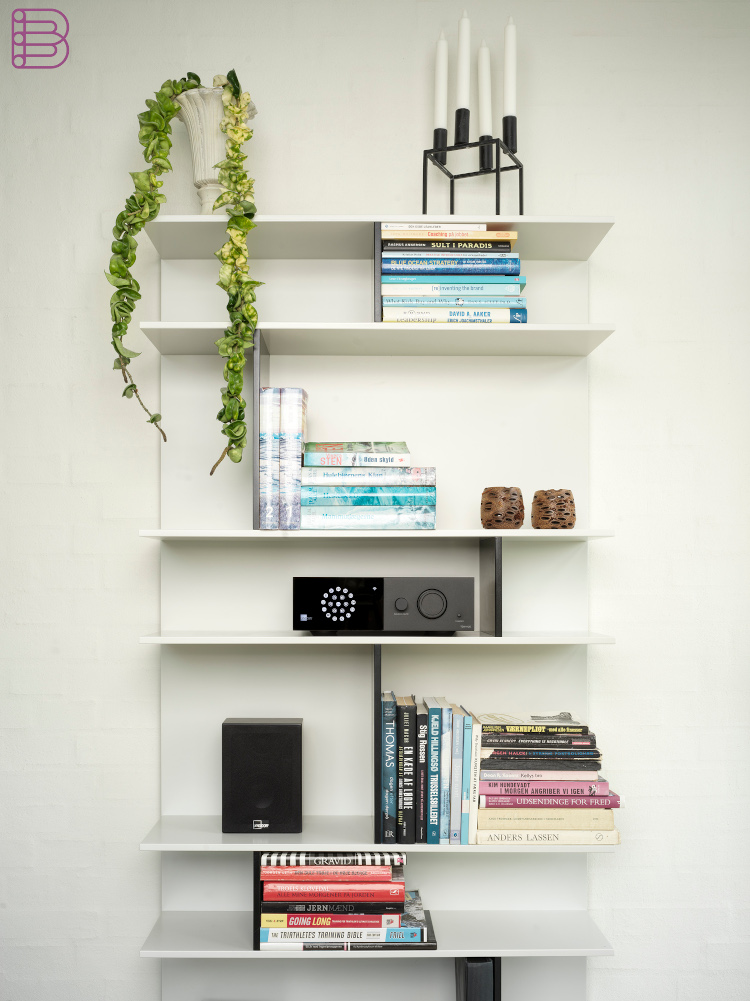 The Steve Gad Band performed exemplary. Drums packed lots of details, the bas had just the right amount of weight and warmth. The sound was open, but always restrained between the speakers and a little behind the speakers.
This was also the case with the organ piece from Jean Guillou. I remember listening to this track on the Estelon XB with the Vitus Audio SIA-025. The image was projected beyond, above and behind the speakers. But hey, that's no fair comparison. The XB's are almost 20X more expensive. When you compare speakers of the same 'entry level', you will get simular results. Conclusion? The Lyngdorf TDAI-1120 made the Dali's perform at their maximum potential. It is clear to me that the amplifier can make even more expensive speakers sing. Incredible…the balls on this little amplifier!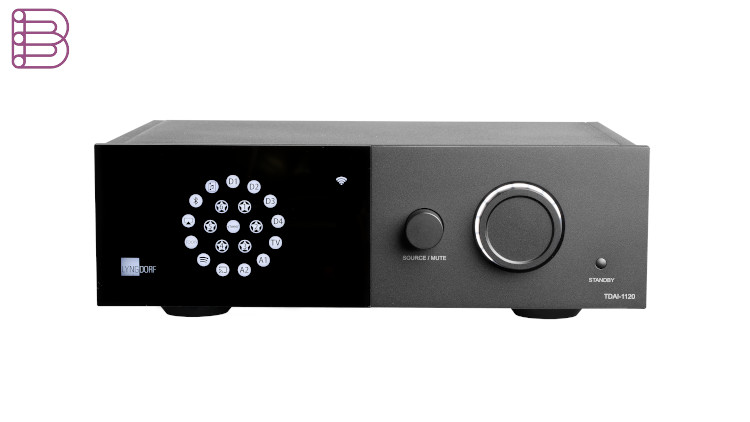 Price
At the time of this review the Lyngdorf TDAI-1120 can be yours for €2000.
Technical specifications
Description: 2-channel streaming amplifier
Power rating: 2 x 120 W RMS @ 4Ohm / 2 x 60 W RMS @ 8Ohm
Digital inputs: 2 x Coaxial, 2 x Optical, 1 x HDMI
Analog inputs: 1 x Phono Single Ended RCA, 1 x Analog Single Ended RCA, 1 x Microphone input (XLR) for RoomPerfect™ calibration
Analog output: 1 x Stereo Analog RCA 
Frequency Response: ±0,5dB from 20 to 20,000 Hz
Total Harmonic Distortion: 0.05% max from 20 to 20,000 Hz, THD-N 1w/8ohm 0,04%, THD-N 1w/4ohm 0,04%
Media player: Internet Radio (vTuner), Spotify Connect, Roon ready, Chromecast built-in, DLNA Support (uPnP), AirPlay2, Bluetooth, Local file playback (USB)
Wireless connections: Bluetooth connectivity, Wi-Fi (802.11 n/ac)
Control interfaces: Intuitive input selector, Web-interface for setup and media player, Remote application for IOS and Android, IP control, CEC (HDMI), 1 x trigger input, 1 x trigger output, 1 x RJ45 Ethernet LAN connector, 1 x USB connectors (Type A)
Accessories included: RoomPerfect™ microphone, Microphone stand, Microphone cable
Optional accessory: IR remote control, rack mounting kit
Placement options: Freestanding 
Dimensions (H x W x D): 10.1 x 30 x 26 cm (including connectors), 3.98 x 11.8 x 10.3 inches (including connectors)
Weight: 8 kg / 17.6 lb
Finish: Matte black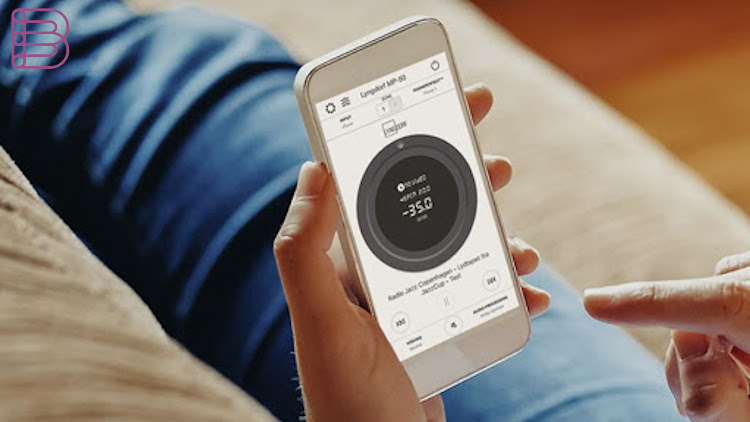 Software
No time to die – Billie Eilish
Auckland by number – Steve Gad Band
Poem of Chinese drum – Hok-man Yim
Recit de tierce en taille – Jean Victor Arthur Guillou
Grassland – Vestbo Trio
Review setup
Lyngdorf TDAI-1120 
Dali Ikon 5 speakers
Tidal
Standard cables (mains, speakers)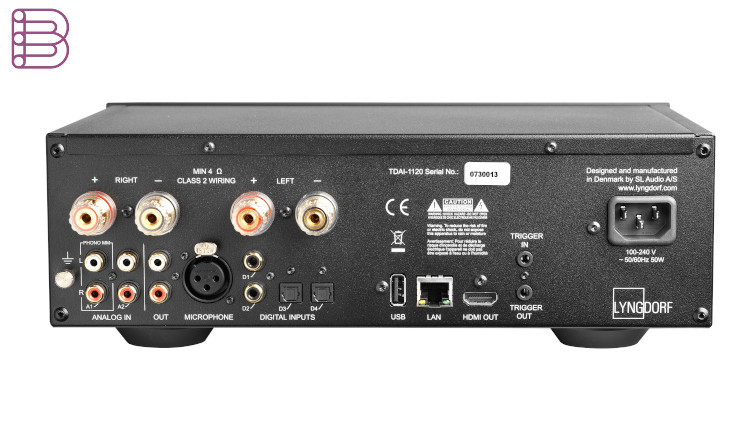 Lyngdorf TDAI-1120 review
Enthusiasts who are about to take their first steps in the world of high end just got very lucky. Lyngdorf turns the audio industry upside down with the TDA-1120. This small beauty packs a brick wall of digital power, RoomPerfect to compensate for your room acoustics and stands ready for every streaming method and/or platform. Setup and controls are straight forward and flexible. In fact this amplifier lets you focus on streaming, listening and enjoying your favourite music to the max. It's unbelievable how Lyngdorf is able to trickle down its core technologies. Meet the new entry level reference!
Features | Functionality [20]
10.0/10
Design | Build Quality [10]
9.0/10
Price | Performance [10]
10.0/10
Pros
Streaming done right
Lots of power
Baby footprint
RoomPerfect
Pricepoint
App or browser control
Build quality
Cons
No competition in this segment
Beware of streaming addiction
Only available in matt black