Designed and developed in Denmark by Lyngdorf Audio, the high-end MP-50 surround sound processor delivers a surround sound experience that outmatches anything in and above its class.
Packed with technology
When it comes to room correction technology, nothing comes close to the MP-50's RoomPerfect™, the world's most sophisticated technology for adapting the sound system to your room. Other highlights from the MP-50´s exhaustive specifications list include a state-of-the-art HDMI stage with 4K pass-through and HDCP 2.2; support for Dolby® Atmos, DTS:X and Auro-3D®; 16 balanced XLR outputs for power amplifiers; a voicing tool to cater to personal preferences; fully digital signal processing; and an optional DCI-compliant digital AES/EBU input for integration with digital cinema servers.
Roomperfect™ room correction
With RoomPerfect™, the MP-50 delivers a perfect surround sound experience equally well to living rooms, media rooms, and home theaters. Without the need for extensive acoustic treatment, you get a surround system with optimal frequency response, seamless level alignment, and bass management that perfectly integrates the speakers and subwoofers, plus more freedom when choosing speakers and their placement.
Immersive surround sound
The MP-50 offers full support of Dolby® Atmos, DTS:X and Auro-3D®, as well as legacy surround sound formats. The processor features 16 balanced XLR outputs and can output 12 unique channels. The remaining 4 outputs can be used for additional speakers or woofers.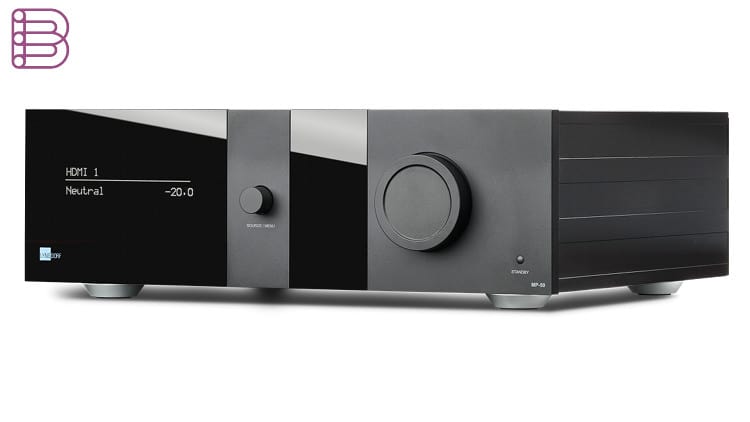 Media player
The MP-50 features a built-in media player, which connects to services like Spotify and Airplay as well as internet radio. Through a cabled network or USB connector, you can access your library of music and enjoy it in stereo or as up-mixed to a surround sound format.
Stunning good looks
The chassis—a salute to modern industrial design—is executed in the signature black design of Lyngdorf Audio. Complemented with matte black aluminium and glass in a profile that complements its capabilities, the MP-50 radiates Danish design at its best.
Voicing tool
The MP-50's built-in voicing tool will allow you to customize 32 voicings, thus changing the overall tonality of the system to your preferences and dedicating voicings to each input of the processor. You can also create a voicing to compensate for a particular recording.
Each voicing can consist of up to eight filters with adjustable gain and Q, all controlled through the browser interface, which shows the effect of each filter as well as the overall effect to tonality.
Dead silent
Because of the extremely low background noise of the fully digital signal processing in the MP-50, you will experience . . . silence. You can enjoy everything from the faintest details to the loudest bangs with full dynamics and realism. But to enjoy the silent passages of music or cinema, your room also needs to be quiet. This is where the digital approach has another benefit; the MP-50 doesn´t generate much heat and therefore has only passive cooling with no need for noise-inducing fans.
Connections
A variety of in- and out-puts provide plenty of options to connect your audio and video sources, including eight HDMI inputs and two HDMI outputs, four optical and three digital coaxial inputs, a USB input that supports audio up to 192kHz/32bit, and an AES/EBU input plus an XLR connector for the RoomPerfect™ calibration microphone. There's also an HDBaseT™ output, a feature set that can converge uncompressed full HD digital video and audio through a 100m/300ft LAN cable.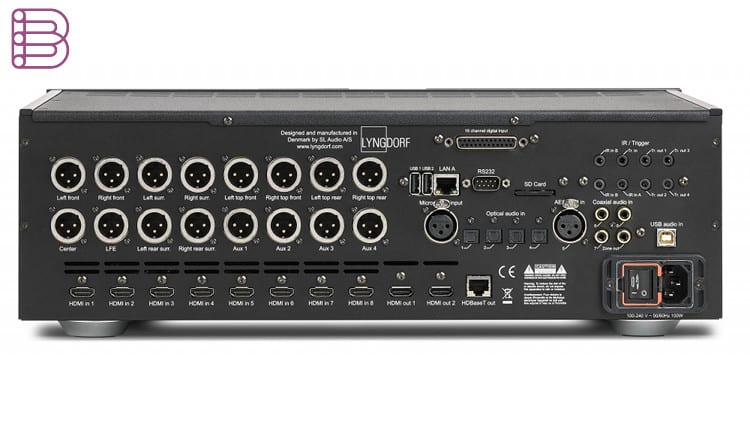 Built to last
The MP-50 is, like all Lyngdorf Audio electronics, built to the highest standards. Everything is simply best-in-class—from the meticulous design based on 20 years of knowhow in digital signal processing, to selection of components, mechanical design, manufacturing, and 48 hours of burn-in before the final QA. Each step ensures that you will not only have ultimate performance but also a product with the highest reliability in the industry.
Flexibility in installation
Multiple control options will allow you to integrate the MP-50 with control systems, IR sensors, and triggers, whereas the IP-control or the infrared remote will offer a direct control of all features. The remote web interface and ihiji offer total control and assurance of performance over time.
DCI-compliant digital AES/EBU INPUT
For movie aficionados, the MP-50 offers an optional upgrade with a DCI-compliant digital AES/EBU input for integration with digital cinema servers.
Visit the Lyngdorf MP-50 product page.