Born from the same groundbreaking technologies used to develop our free-standing powered subwoofers, the Fathom® IWS in-wall subwoofer systems deliver remarkable bass performance, while remaining largely concealed within most home audio/theater environments. The 8-inch Fathom® IWS systems are smaller and easier to integrate than the larger in-wall Fathoms, fitting in all standard, 16-inch, on-center stud openings, and operating through very small grilles. These grilles accommodate all common drywall thicknesses, and can be easily painted to match the wall.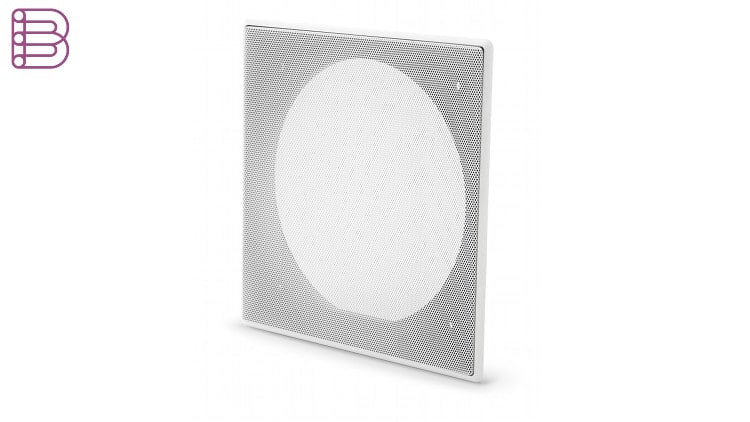 The subwoofer enclosures utilize extensive architectural features aimed at improving rigidity while keeping a very low profile and minimal wall thickness. A unique port design vents through a slot located at the perimeter of the driver mount to enhance efficiency and low-bass output. Inside the enclosure is a long-excursion, 8-inch thin-line woofer, built to exacting standards by JL Audio for the Fathom® IWS products. Each 8-inch Fathom® IWS system is powered by a rack-mountable amplifier, capable of generating up to 600 watts of clean power and can drive up to two enclosures. A complete set of Fathom® signal processing features is also onboard, including our powerful, 18-band Digital Automatic Room Optimization (D.A.R.O.) system, all managed via an easy-to-use, menu-driven interface and LCD display. Note: D.A.R.O. functionality requires optional calibration microphone (sold separately).
Dynamic Motor Analysis – DMA Optimized Motor
JL Audio's proprietary Dynamic Motor Analysis system is a powerful suite of FEA-based modeling systems, first developed by JL Audio in 1997 and refined over the years to scientifically address the issue of speaker motor linearity. This leads to vastly reduced distortion and faithfully reproduced transients… or put simply: tight, clean, articulate bass.
Specifiactions
Enclosure Type: Ported
Enclosure Finish: Black Texture-Coated
Frequency Response (Anechoic): 30 Hz – 112 Hz (± 1.5 dB) -3dB at 28 Hz / 126 Hz -10dB at 24 Hz / 152 Hz
Effective Piston Area (Sd): 31.62 sq in / 0.0204 sq m
Effective Displacemen:t 47.5 cu in / 0.78 L
Amplifier Power: 300 W RMS short-term
Power Mode(s): Off, On or Automatic (Signal-Sensing or 12V Trigger)
12V Trigger Output Capacity: 150 mA (1/8-inch/3.5mm mini jack)
Visit the JL Audio website.