You just gotta love the internet. I met Sauli Liitiäinen online. We got connected through Messenger. Yeah! Those things do serve a purpose. We started talking about high fidelity, active monitoring, mixing, high end, cables, brands…we talked and talked, even about video production. Time really flies. I really tested Sauli's patience. Guilty as charged. I've been using his cables for about a year know. Starting up an online magazine takes time. Especially if you want to do a good job. Back to the present. Since September 'Best of high end' started with reviews. Finally his products are up! The reason I got exited about Graditech was that Sauli told me that he developed these products for the use with active speakers/monitors. Listening and reviewing high end products from the couch and editing video's for your website are 2 different things. On the couch I listen to Estelon XB's for the moment. In my video editing suite I'm relying on a pair of Genelec 8050b's at this time. So, hell yeah…I want to hear how the Graditech cables would clean up my sound. The standard XLR cables went into the closet. I hope they're gone!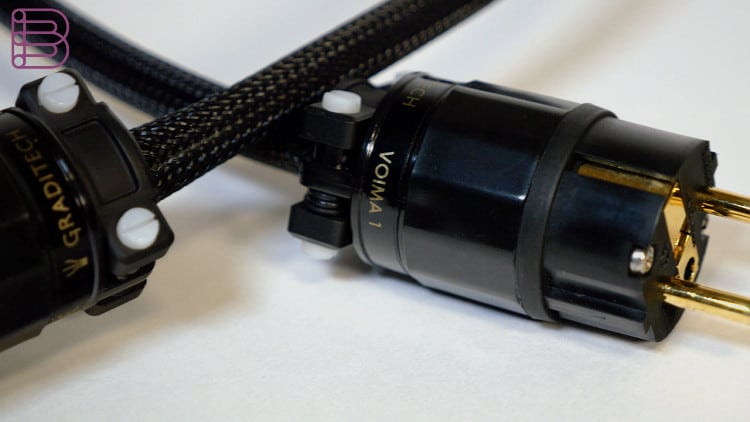 Gradi-what? Graditech
Graditech was founded in 2000. Sauli is the managing director. The company philosophy is to deliver cables that lets people enjoy music without filters, distortion or other barriers that cables might present. Finns do like challenges. With roots in the loudspeaker and electronics industry Sauli was very much aware of the problems that the interaction between speakers, amplifiers, cables and listening rooms presented. He wanted to face that challenge, head-on. The guy build his first amplifier at the age of 12, a pair of loudspeakers when he was 13. Here's an interesting statement: "Until now, common knowledge told us that there is no ONE best cable for all systems. As soon as you exchange a component,  chances are you need to reassess your cabling, too.". Is this true? I'm inclined to believe…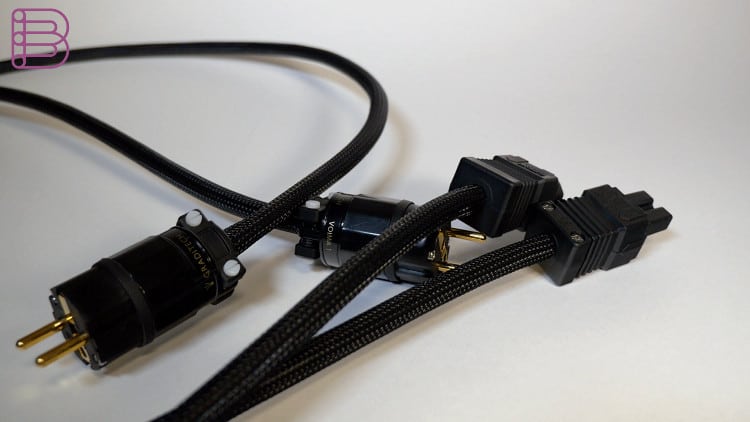 Graditech best offer for active speakers/monitors?
The true quality of the sound is important. It lets us get in touch with the intent of the artist or composer. If we talk in a more technical way about sound, things like transients, soundstage, tonal quality and balance come into play. Neutrality is key with Graditech. The company believes that perfecting the sound allows the listener to understand how, and most of all, why the music was made. In an active speaker design, units and amplifiers are matched. Filtering is done active, with DSP. Switching power supplies are common. They are efficient, small but subject to power fluctuations. Offering them clean and stable power is something they would benefit from. My listening experiences are based on a few different setups. First I was using a Genelec 8330 + 7350 combination along with a Focusrite Scarlet USB audio interface (iMac). I upgraded to a pair of 8050b's when I moved to a 70m2 room. For a few weeks I even used the VItus Audio SCD-025 as high end USB DAC (iMac). I even compared the Graditech cables with very expensive Purist Audio Design stuff. I'll summarise my impressions in a general way to keep things simple and clear.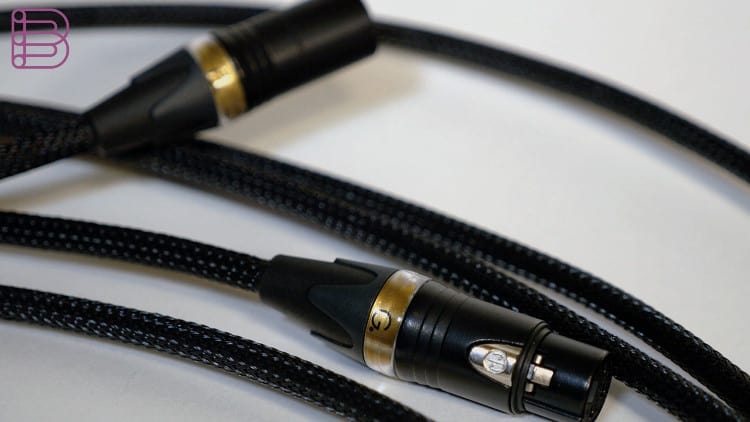 Do you get what you pay for?
Let's start with some poppy music. 9 crimes is a well known song from Damien Rice. Basically you hear 2 voices (his and a female one) along with some piano, drums and bass. With the Graditech system the sound is more clear, there's less clutter. Low frequencies are more extended, tighter and controlled. Piano notes are more separated, they fall into place nicely. In his track Neon, John Mayer proves that he's a far better guitar player than a singer. His acoustical guitar is caputered with a Neumann TLM103. Typical for Neumann microphones is the richness and presence in the midrange. The guitar has more snap, rhythm and articulation with the Graditech cables. I noticed more 'air' in the presentation, making it a lot easier to follow song. The Netherlands are next. Willemijn May is a Dutch singer/songwriter with a lot of promise. She put all her passion and devotion into the track 'Fire'. The track starts with an interesting drum arrangement that communicates powerful dynamics and bottom end impact. In my opinion there's more separation between the low frequency information and her voice and the rest of the instruments. Bass drums form a better basis to build the rest of the song. Here's where it gets tricky. Treble is extended up to a range that might reveal tweeter brightness. Luckily for me and my Genelec 8050b's this means her voice has more detail and sounds crisper and clearer. We're back in the States again with Patricia Barber. She's the child of musical parents: her dad once played in the Glenn Miller band. She sings jazz standards and own compositions. Her alt voice sounds darkish, intimate and convincing. Listening to 'You're the top' with the Graditech system pulled me closer into the song. The soundstage grew not as much in dimensions, but in clarity and spaciousness. Every part of the arrangement got a clearer place, so that every single part became more noticeable. Timbres got more natural and neutral. Let's finish with something classical. Requiem: Pie Jesu can work on your emotions. There's the sad string section and the encouraging soprano to balance the musical message. The pipe organ provides a beautiful climax. The thing that strikes me most with this track is the increased refinement. Everything sounds more 'polished', has more shine.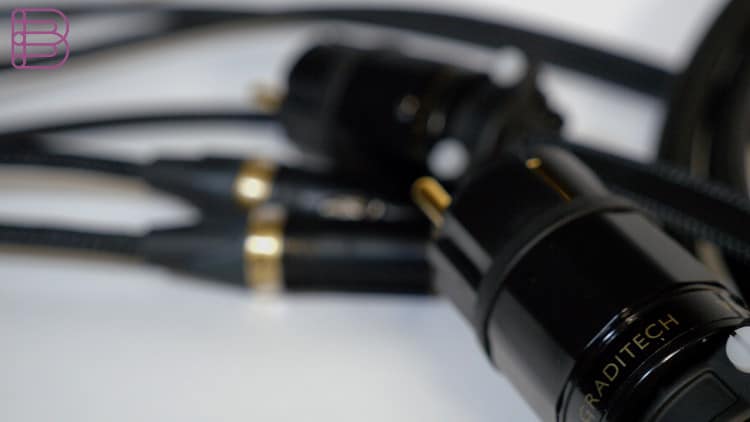 Who does what? In other words…what do the interlinks do? What do the power cables do? I would definitely advise them as a 'system'. When used together they increase each others value. It's like 1 + 1 = 3. The Graditech G interlinks provide more detail, resolution and coherence, while the Voima 1 power cables make the sound more transparant, rhythmic and dynamic.
Price
G interconnects
€720 for a 3m set (Eurozone) at the time of the review
Voima 1 power cables
To be published
Technical specifications
G interconnects
Conductors: 3 pairs of helically arranged conductors
Plugs: professional quality Neutrik RCA or XLR plugs
Voima 1 power cables
Conductors: 3 conductors of 2,5MM, wrapped in a 2-PUR insulation
Plugs: Furutech gold-plated pure copper plugs
Capacitance: 57pF (1,5m at 1kHz)
Inductance 2.32uH (1,5m at 1kHz)
Resistance 0.010ohm (1,5m at 1 kHz)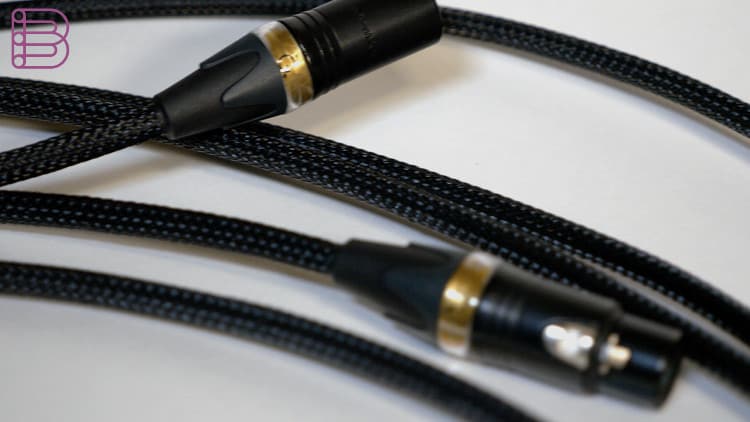 Review setup
Genelec 8330 SAM Studio Monitors + 7350 SAM Studio Subwoofer
Genelec 8050b Studio Monitors
Graditech G interconnects
Graditech Voima 2 powercords
iMac
Fosucrite Scarlet USB audio interface
Vitus Audio SCD-025 (USB DAC)
Spotify
VOX Premium Mac Music Player for Hi-Res music
Final Cut Pro X video editing software
DaVinci Resolve 14 video editing software
Track list
9 crimes – Damien Rice [9]
Neon – John Mayer [Where the light is]
Fire – Willemijn May [Willow Tree]
You're the top – Patricia Barber [The Cole Porter Mix]
Requiem: Pie Jesu – John Rutter [Requiem & 5 anthems]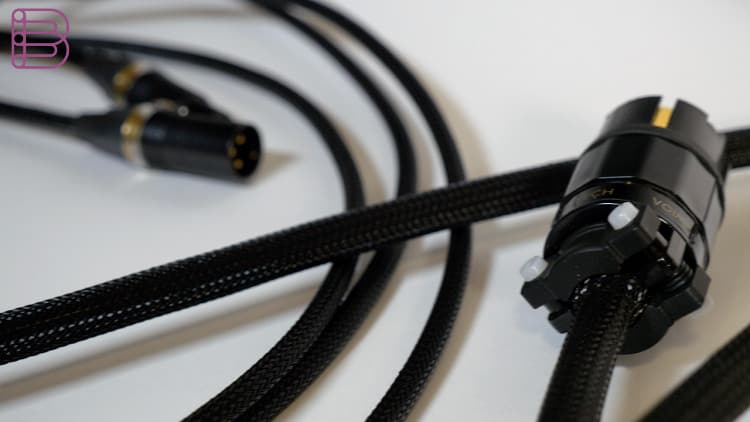 Graditech G & Voima 1 review
So, to answer the 'One million dollar' question from the previous paragraph: yes. You definitely get what you payed for and then some... Get your head into the game when you're editing, mixing and/or mastering or just want to listen to music or watch a movie using active speakers/monitors. The G interconnects and Voima 1 power cords don't just clean up your sound, they demand you to be more concentrated, to deliver more accurate work, because the simply reveal more. If you consider the asking price, these products come highly recommended.