Imagine a complete High-End stereo system enclosed in a beautiful aluminum chassis carved in bold Italian style: this is Gold Note IS-1000. With the knowledge and the experience developed in over 20 years of research, we are now able to offer an all-in-one solution powered by the most advanced technologies and components to achieve true audiophile quality sound. The Gold Note IS-1000 is an advanced fully integrated amplifier that redefines the way music playback is experienced to achieve a new pinnacle in High-End audio, seamlessly merging a Preamplifier, a Power Amplifier, a Phono Preamp, a DAC and a Streamer in a unique, complete source. The refined technical innovations of IS-1000 come directly from our flagship models, like the Gold Note preamplifier P-1000 and the Gold Note power amplifier PA-1175, which inspired us to create a new source that would integrate the analogue components of a high quality amplifier with the digital technologies of a Streamer and a DAC to deliver outstanding performances.
Roon ready
The Gold Note IS-1000 is a Roon Ready device, fully compatible with multi-room systems and with a quick plug&play installation: simply plug the Gold Note IS-1000 to the main A/C, connect it to your network (Wi-Fi or Ethernet) then to the speakers and start to explore the endless possibilities of music, streaming from Tidal & MQA via Tidal, Qobuz, Spotify & Spotify Connect and Deezer with Roon and our App [available for iOS and Android] or browsing your collection of digital music stored on NAS, HDD and USB sticks (DSD 64 native and via DoP on USB and LAN, PCM up to 24/192 with exclusive possible option to interchange the DAC converter PCB).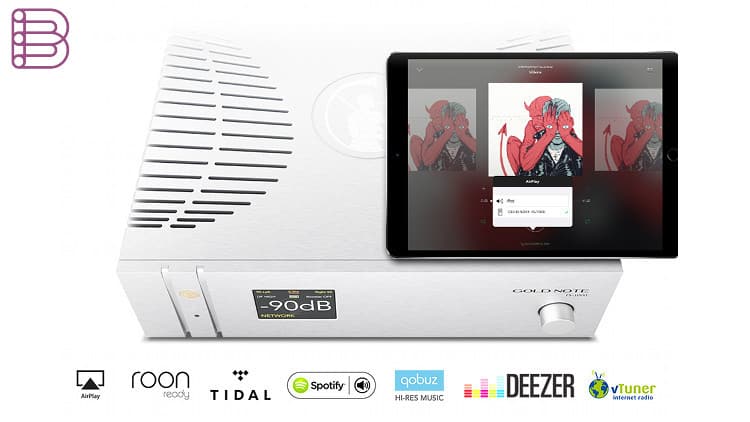 Musical pleasure at your fingertips
You don't need anything else to experience at home the pleasure of high definition audio, just the Gold Note IS-1000 and your speakers. If you love vinyl records, connect your turntable directly into IS-1000 to use the Phono Preamp we designed and engineered, it's really that simple. The new Class A/B amplifier with 125/250W @ 8/4Ω per channel (optionally available 150/300W @ 8/4Ω) guarantees the pure sound, vivid dynamics and the finest detail, offering a wide range of digital and analogue inputs to assure total control and freedom to upgrade, expand or connect more devices to the Gold Note IS-1000.
Features
Gold Note IS-1000 features 6 digital inputs (PCM up to 24bit/192kHz):
3 optical (TOS)
1 Coaxial (COAX)
1 USB type A (DSD 64 native and via DoP)
1 Ethernet LAN & Wi-Fi (DSD 64 native and via DoP)
and 3 analogue inputs:
1 XLR balanced
2 RCA (1 Line & Phono MM/MC and 1 Line & AV-Ind)
To offer the best versatility it also features 2 analogue outputs – 1 RCA variable and 1 RCA fixed – to connect your source to the Gold Note IS-1000 or to match it with your active speakers and even with power amplifiers. The Gold Note IS-1000 is a radical, innovative solution dedicated to audio enthusiasts looking for a real high quality All-In-One source.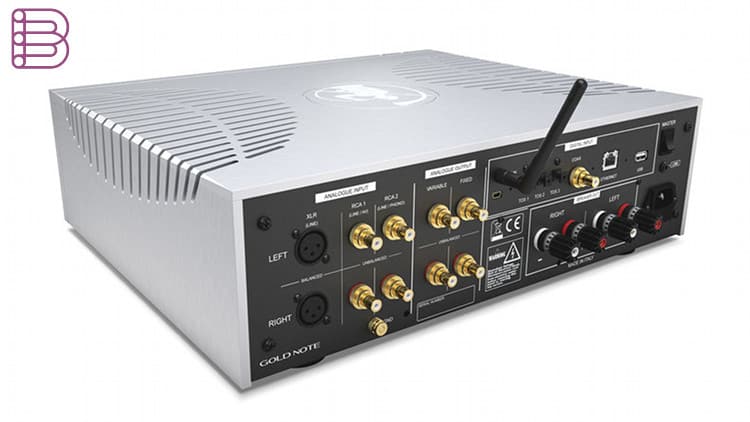 Visit the Gold Note website.