Each season, around 40 concerts are broadcasted live and they can also be viewed at a later date in the concert archive. The archive already contains hundreds of recordings with all the great artists of classical music. There are also fascinating documentaries and bonus films. UHD cameras installed all around the concert platform in the Berlin Philharmonie to capture all the action for every Digital Concert Hall production. They are controlled from a studio under the roof of the Philharmonie where experienced directors and sound engineers make sure that the concert experience is as true to life as it is thrilling. Our behind the scenes video lets you see how it's done.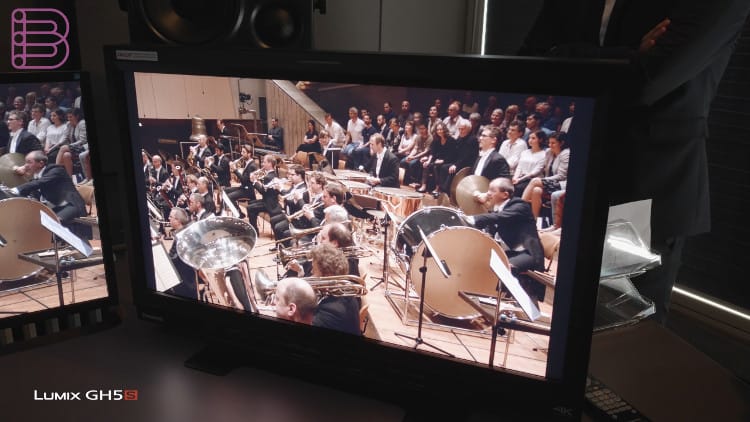 Collaboration Berlin Phil Media and Panasonic
The collaboration will explore opportunities to bring a premium and authentic live concert hall experience to the home and in-car environment. Panasonic provided state-of-the-art 4K/HDR video equipment. The Digital Concert Hall will then broadcast highest quality HD and 4K/HDR video concert recordings in enhanced audio formats. Technics, the high-end audio brand of Panasonic, will collaborate to realize an authentic concert hall experience on the latest Panasonic video and audio equipment at home and in the in-car environment.
Project schedule
The Studio Project is planned and build in two stages:
Summer 2017
Concert Hall 4K Infrastructure
4 K Cameras
4K Post Production
Studio hybrid operation HD live and 4K Digital Concert Hall Archive
Summer 2018
4K Mixer
4K Live and 4K Digital Concert Hall Archive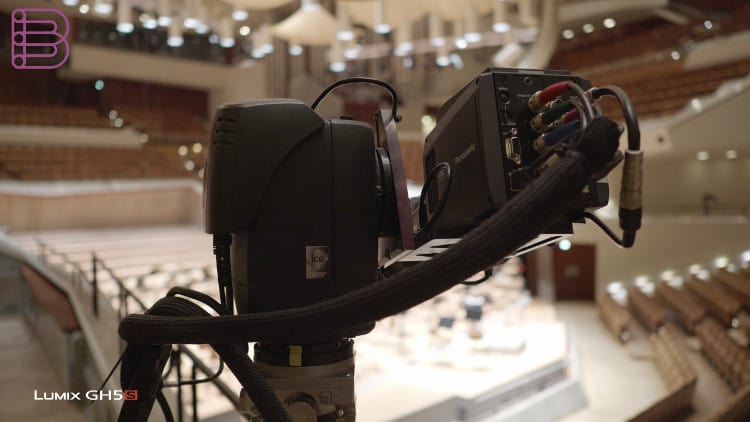 Hybrid UHD-HDR & HD-SDR production
Production standards:
HD with 1920 x 1080 Pixel and 50 progressive frames
4K = UHD 3.840 x 2160 Pixel with 50 progressive frames
SDR und HDR (HLG)
Standard Production codec: AVC Intra Class 4K 4:2:2 HDR 10 Bit at 800 Mbit/Sek
HQ Production codec: AppleProRes HQ, 4K/HDR, 4:4:4, 12 Bit at 1.500 MBit/Sek
Audio: min. WAV 48 KHz/24 Bit Stereo, plus optional 5.1 Surround Mix, total 8 Audio tracks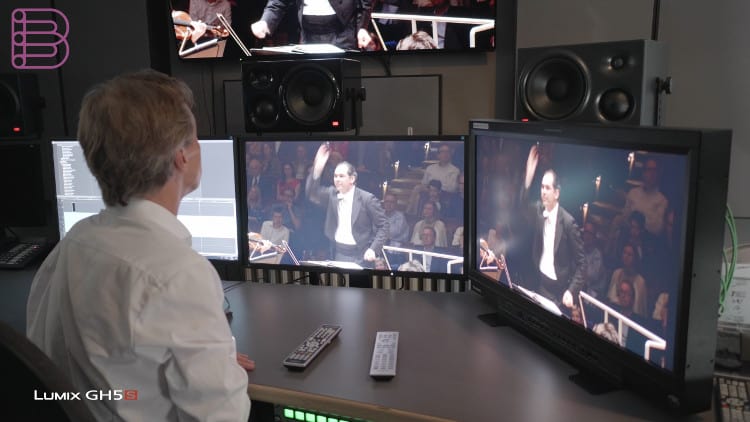 Cameras at Concert Hall
All cameras at the Concert Hall must be operated in total sync for frame accurate editing. All cameras output each a 4K/HDR signal via 4x 3G-SDI and a HD/SDR via 1x 3G-SDI Cable
8x Remote controlled 4K/HDR (HLG) AK-UB300G Panasonic Box Cameras
1x 4K/HDR (HLG) AK-UC3000GSJ Panasonic Studio Camera
The UB-300s are all installed on a remoted Controlled Pan/Tilt Head. For Events, the amount of cameras in the Concert Hall can be increased. All cameras are equipped with 4K Fujinon 2/3'' Broadcast Lenses or Canon HD Tele Zoom ENG Lenses. The remote Control System in the Concert Hall must be noiseless to not disturb musicians and the audience. All Equipment in the Center Hall should not show lights or signal LEDs to not disturb musicians and the audience. The Cameras connected via Fiber Optics to the Studio 6 machine room.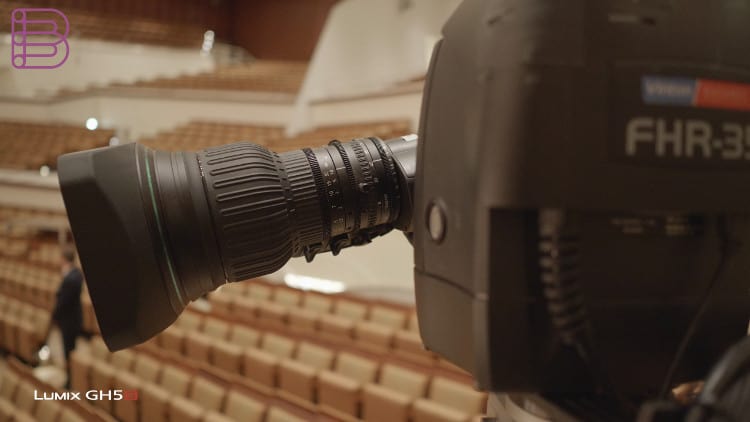 Studio 6
The Studio 6 Control Room is equipped with 6x Panasonic BT-4LH310 31″ 4K SDR Production Monitors and additional 55" Consumer 4K HDR Panasonic-TX-55EZW1004 OLED Smart TV.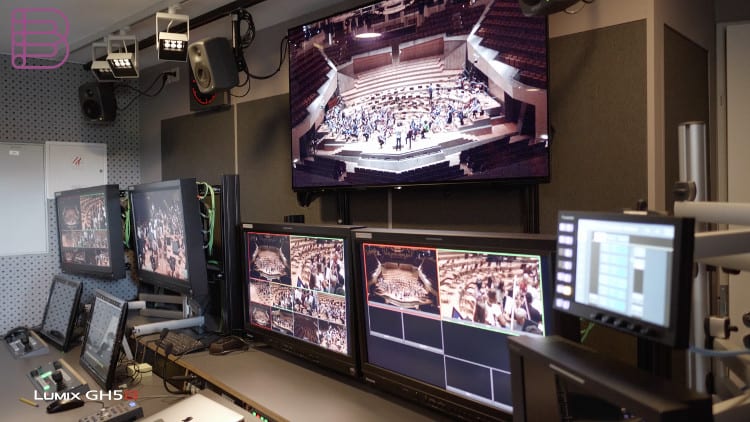 Studio 7
In Summer 2017 the Panasonic Vision mixer (AV-HS6000) HD 1080 50p was installed. To create and record parallel to the HD PGM a 4K HDR PGM, we developed a RCP3 Plug-In, that switch in sync the 4K Cameras Signal in the Utah Router and output a clean 4K PGM to the Video Servers. In the summer 2018 Panasonic will replace the AV-HS-6000 HD Mixer with our new AV- HS7300 4K Mixer, to start live 4K HDR streaming. From Summer on a new R&S 4K Streaming Encoder will be use for Realtime encoding for the Digital Concert Hall. The 4K / HD content will be recoded and edited on a 8 Cinergy Video Server at Studio 6 ( Live ) and Edius Editing Systems at Studio 7 ( Post ). The codecs will be: AVC Intra Class 4K 4:2:2 HDR 10 Bit or AppleProRes HQ 4K/HDR 4:4:4 12 Bit.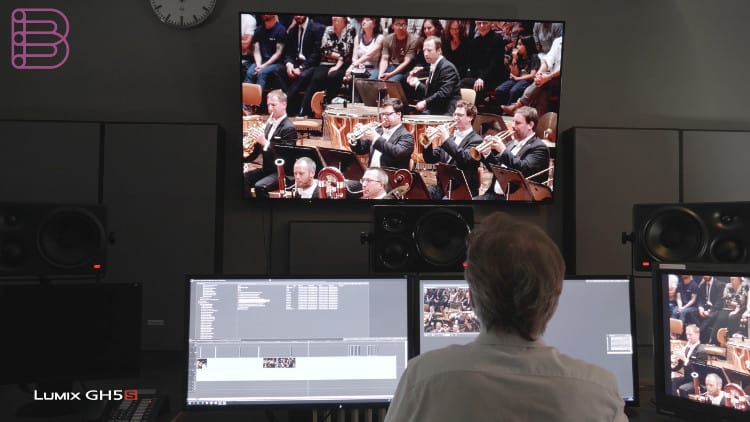 Visit the Berliner Philharmoniker's Digital Concert Hall | Panasonic Business websites.