Once up on a time people used turntables and vinyl to listen to music, watched movies using DVD or Blu-ray discs. I kid you not. These days are long gone. Or not? Pardon my French??? Since the introduction of the Apple iPad and Spotify we live in different times. Convenience is the new magic word. Who still wants to get up and leave his comfy seat to put on another record or spin the next disc? Do you? I don't. These days, control is at our fingertips. With a remote or smart device, we want to control our surroundings. Yep, that's audio and video included! To meet these needs media players were invented. Vive la France!!! Such devices can centralize your music and movies and stream it over your local network to any device you want. Hell yes! It's 2020 and welcome to our review of the Zappiti 4K PRO HDR media player.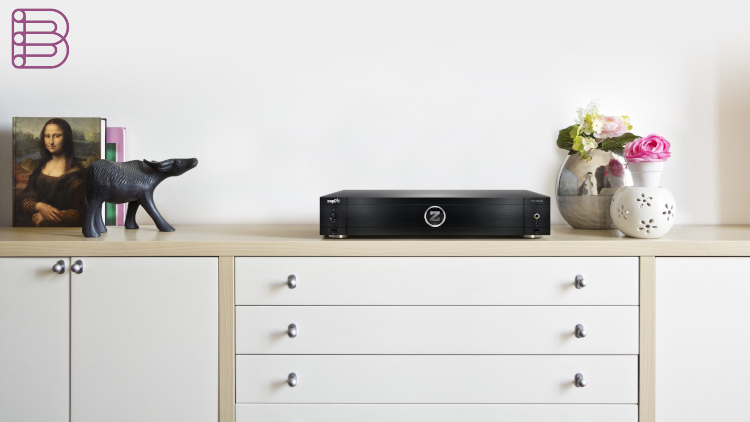 Zapping away
Zappiti is a sympathetic French brand with a very respectable worldwide reseller network. Their mission is to provide products that allow you to experience home theater at its best! They strive for the most immersive, dimensional and emotional home cinema experience on the planet. Zappiti offers a range of high-end multimedia players, engineered to provide great picture and sound performance. The brand's passion for cinema and commitment to deliver 'the original' resulted in unique hardware, software and a user-friendly interface. They want to deliver an unbeatable price to performance ratio to their customers. Convinced to get started? I was. Very. Mailed my review request and a few days later the courier arrived with a Zappiti Pro 4K HDR in a box. Press play to start!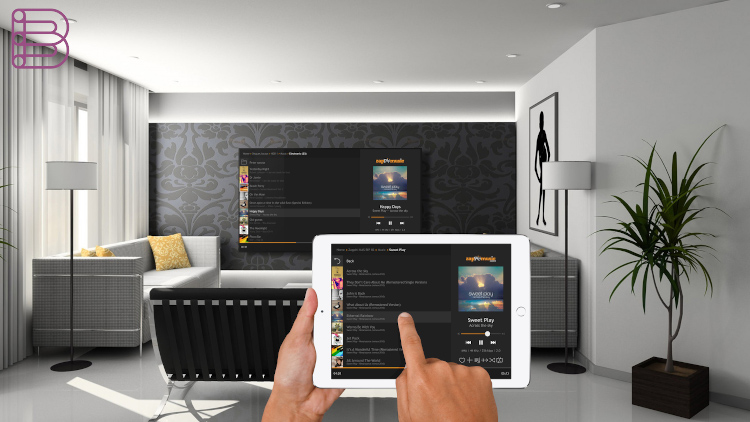 Spin your media 360°
These are interesting times. Software is gradually becoming something virtual. Discs become digital files. This transformation took place some time ago in cinemas. They are no longer burning 35mm roles but playing files locally or streaming them remotely. That's called progress. Should we say no to that? Of course not. We must embrace it! How do we bring that progress home? With a universal media player. Should that player be able to play discs? No, that would be a Blu-ray player. Let's keep up to date. Discs becomes storage. Do you own a NAS? An external USB drive? If not, you can put 2 x 3,5" SATA hard discs in the Zappiti Pro 4K HDR. Tada! Up to 32Gb of storage is ready to go. An extensive rack full of blu-ray discs is replaced by a digital library, with detailed information at your fingertips. 
At first glance the Zappiti Pro 4K HDR looks very potent. If you take the price into consideration, it might be fair to expect an overall 'plastic' impression. None of that. Its heavy and sturdy housing immediately convinces you of the opposite. High-end media players are rather rare as a product, in comparison with for example amplifiers or speakers. Can we qualify the Zappiti Pro 4K HDR as a high-end device? That's the real question of this review. The 'Pro' in the nametag refers to professional. So, where are the XLR connectors? I get it. As a 'digital platform' the main focus is sending the digital package to the receiver. XLR connectors would require high quality DACs. This could open the door for DSD support. The slightly more expensive Panasonic UB9004 comes with a dedicated audio section with XLRs. I understand the 'digital first' approach completely and approve it. Every connection is gold plated. Even the dual HDMI. Nice. This means you can 'separate' audio and video. In fact, this is mandatory if you want to talk high-end. So, what's on the back panel? AC input, USB 2.0, USB 3.0, USB Type-C, LAN, IR extender, Wi-Fi antenna connectors, HDMI in, HDMI OUT (audio only), HDMI OUT (main), RCA outputs, digital coaxial output and CVBS. Honestly, the design of the Zappiti Pro 4K HDR is not the sexiest on the planet. The front panel can be flipped down, in order for the 2 giant HDD ports to appear. Do you see the 3 main focus points? Storage, network and HDMI. The perfect ingredients for a modern media player?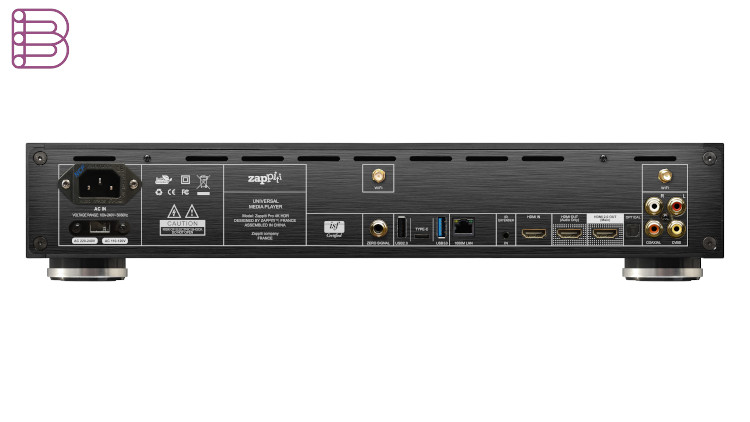 Testing 1, 2 … 7.2.6
There are a few ways to operate the Zappiti Pro 4K HDR. There's the remote. You can connect a mouse and/or keyboard or go smartphone/tablet. Search for 'Zappiti media control 4K' or 'Zappiti music control' in the App Store or Google Play. What do you choose: old school or…? There are a few ways to navigate through your content: music, video or explorer. Music can be accessed easily without TV with the Zappiti music control app. The GUI is pleasing for the eye and works in a very recognizable way if you're into streaming apps. Enjoy the high-quality movie covers and detailed information while browsing through your movie wall. Accessing external USB-devices or NAS system turns out to be child's play with the explorer. I wouldn't go so far as to say that the Zappiti software is futuristic and advanced. No, it's tuned to today. In that respect, other brands like for example Panasonic (UB9004) or Oppo (203/205) still remain in the stone age. The Zappiti user experience is just flawless.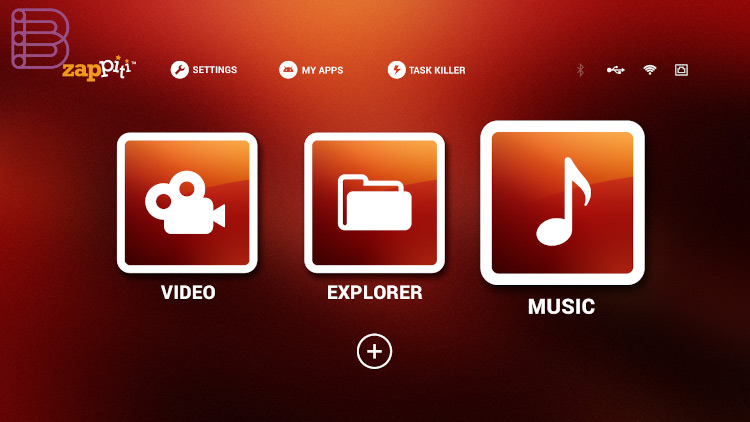 Dim the lights. Juice to the LG OLED. Power to the Zappiti. Lyngdorf MP-60: on. The LED lights on all Genelec monitors turn green. Let's load and play some movie fragments. Time for some real life testing! Avengers fills the screen with action. The image is crisp, bright and filled with natural details. Thank you Zappiti MagicPixel v2.5 and the 'Direct Output' mode. Auto frame rate matches the exact 'frames per second' from the movie with the screen. Sound is literarily everywhere during the intense battles. You're sucked into the movie in true immersive style. Dolby Atmos 7.2.4 to the max! Dialogues are clear and understandable but remain too much in the center speaker.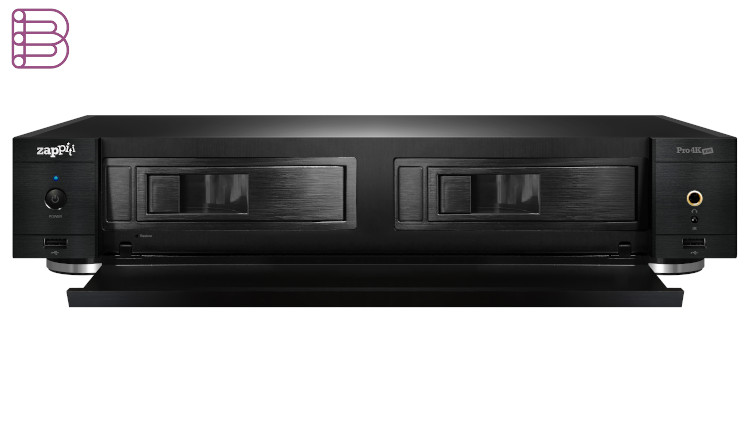 Maleficent (Mistress of Evil) brings out the best out of the Zappiti Pro 4K HDR. The picture quality is simply jaw-dropping! HDR at it's best. The movie makers and the LG OLED also deserve an oscar here. But the Zappiti Pro 4K HDR holds its own. It produced a wonderful colorific splendor. For a moment I believed I was watching Dolby Vision content. Believers in true high-end would want to go that extra mile. No compromise there. High Dynamic Range or HDR is interesting because filmmakers can add brightness, accurate and richer colors and contrast to their productions. There are 2 different sorts of HDR: static and dynamic. Standard HDR is static. Here producers can ad only one value to show the HDR content per episode of a serie or movie. Peak brightness is mostly limited to a 1.000 Nits, the equivalent of brightness a LG OLED can produce today. Dynamic HDR like HDR10+ or Dolby Vision can crank up the brightness to a whopping 10.000 Nits. The color information is 12-bits versus 10-bits with static HDR. The difference? 1024 variations of shadow detail and about 1 billion colors versus 4.096 variations of shadow and 68 billion colors. Dolby Vision is 'future proof' with its 10.000 Nits as the brightest LED can produce almost 4.000 Nits. The big difference is that with dynamic HDR like Dolby Vision content creators can add HDR values per scene. So you get more subtle nuances and a more immersive experience in general.
Spies in disguise turned out to be a very entertaining animation film. Because of the nature of the genre, you tend to focus more on the audio (in my opinion). I got a fairly good representation of the acoustical space, nice dynamics and overall tonality. They did a nice job capturing the voice of Will Smith. Great casting! Watching an animation film in HDR brings more 'light or brightness' to the table. Colour accuracy was spot on.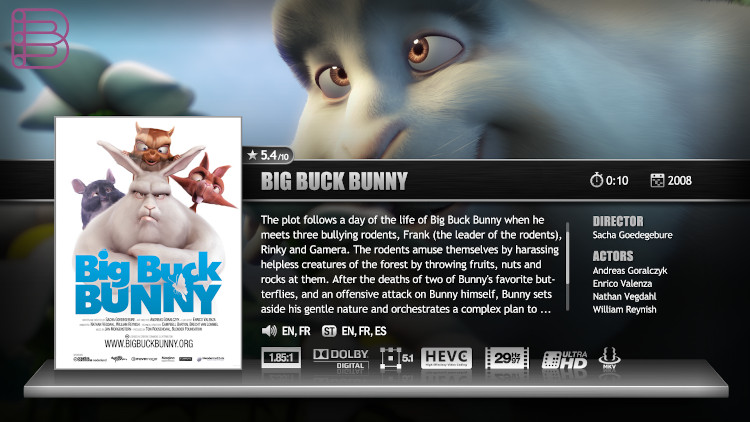 Dino time. Fallen Kingdom is one of the best episodes in the Jurassic Parc saga. The way that the producers could build up tension and engage the viewers is next level. I watched a few scenes in the DTS:X format. This brings up the old rivalry between Dolby and DTS. DTS has always been superior. Again the case with this soundtrack. The spaciousness was awesome. The way the dinosaurs moved around got me to turn my head once to look. That's the way it should be! Right in the middle of the action. A lot of dark scenes created a dedicated atmosphere. Some of the scenes were very cinematic in terms of composition. 
Ford versus Ferrari put me in the middle of the action. Again. Post processing the audio to 7.2.6 Dolby Atmos I found myself driving the Ford a lot. Honestly, I would have preferred driving the Ferrari! The soundtrack of this movie is very engaging. I didn't know a car could make so much different sounds and noises. It all adds to the experience. No remarks on the image quality what-so-ever. The Zappiti Pro 4K HDR plays its role as the ultimate 'pass-through' as far as the video is concerned. It acts like a studio monitor: what you put in, comes out the same way with no coloration or addition. I love LG OLEDs because they share that same philosophy. In my book that's called reference level. Audio performance is not quiet on that same level. It needs to be more refined, open and holographic. I really need to weigh in the influence of RoomPerfect from the Lyngdorf MP-60 here. That's probably the reason why Zappiti recently introduced the 'Audicom Cinema Edition' of the Zappiti Pro 4K HDR. Could that be the 'ultimate' universal media player? An idea for a follow-up test?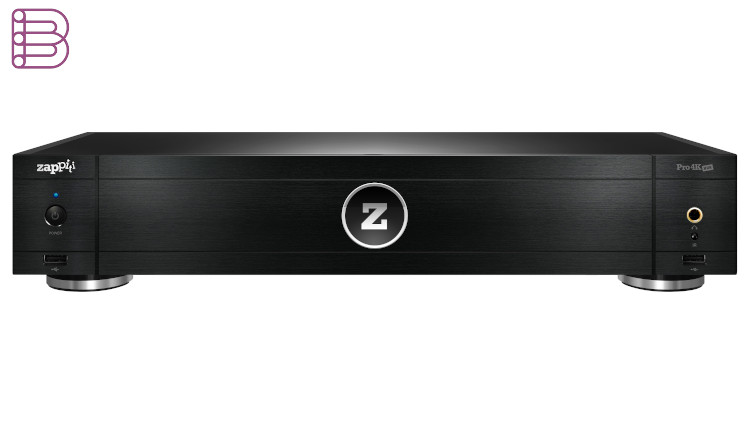 Price
At the time of the review the Zappiti Pro 4K HDR is priced €799.
Relevant technical specifications
Chipset: Realtek RTD1295
CPU: Quad core
Operating system: 64-Bit
HDMI AV: 2.0a
HDMI audio only: 1.4a
HDR: Yes
10-Bit colors: Yes (even 12-bit if supported by screen)
REC.2020 color space: Yes
4K 50p/60p: Yes
Auto framerate: 23.976/24/50/59.94/60
4K HEVC max. bitrate: 400Mbps
Local network transfer: SMB Server (up to 115MB/s)/FTP
BD Lite: Yes
Blu-ray/UHD menus: Yes
Gold-plated ports: Yes
Wi-Fi 5G: Yes
Dual HDD Rack option for 3,5" SATA drives up to 32Tb: Yes
USB ports: 3.0 and Type-C
Multichannel home cinema audio: bitstream up to 11.2.4, stereo downmix 
Hi-Res music playback: up to 24-Bit/192 kHz
Bluetooth: 4.0
Control player and Android Apps with computer mouse and/or keyboard
Android 6.0
Ethernet 10/100/1000 Mb/s
Backlit remote control
ISF Certification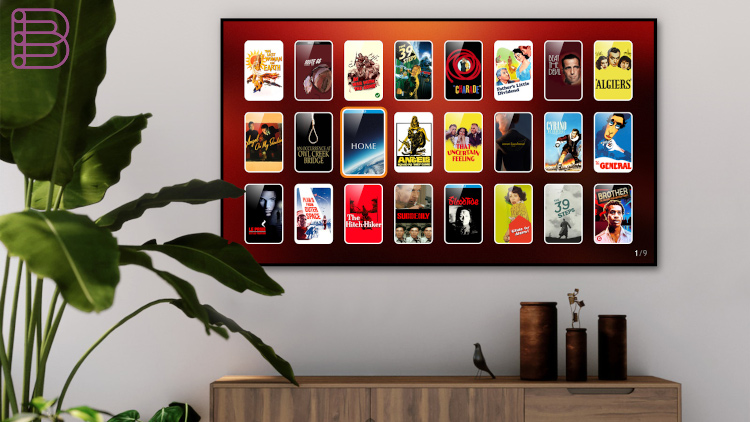 Software
Avengers – Endgame
Maleficent – Mistress of Evil
Spies in disguise
Jurassic world – Fallen kingdom
Ford v Ferrari
Hardware
LG OLED65C9
Lyngdorf MP-60 AV processor
Panasonic UB9004
Genelec 8040 (7)
Genelec 8030 (5)
Genelec 8020 (7)
Genelec 7350 (2)
Vovox cables
Procab cables
Supra cables 
Zappiti PRO 4K HDR media player review
The Zappiti Pro 4K HDR is a real bargain. It's a one-box-does-all solution for music and movie lovers, who want to manage their content in a way, proper to 2020. First this means digital storage on an external server or the internal HDD's. Second you stream your digital content over separate HDMI cables to your screen and AV processor. The Zappiti operates as an intermediate to facilitate the 'managing' part in the most pleasant and simple way possible. During this process, the highest possible image and sound quality is pursued. The Zappiti Pro 4K HDR checks off almost all boxes. So, in the end, it's the near-perfect high-end media player. If they could gear up the audio performance and support Dolby Vision, then the 'picture' would be complete. Meanwhile, put this media player on your shortlist.
Features | Functionality [20]
9.5/10
Design | Build Quality [10]
8.0/10
Price | Performance [10]
8.0/10
Pros
Excellent image quality
Total media solution
Friendly priced
Intuitive user interface / operation
Ease of use first design
Firm, solid housing
Likes almost all codecs
Control app
Cons
No Dolby Vision support
DSD support using third party software
Restrained audio performance
No XLR outputs