System NINE is Richard Vandersteen's radical, total-system approach to audio design, derived from decades of industry-leading research & innovation. System NINE is truly unique in high-end audio in that its components are not just complementary, but literally made for one another. We are thrilled for the fortunate few who dive straight into this entire system with a single purchase. But because the Model Seven or Model Seven Mk II is the entry point, any listener who's been with the Vandersteen flagship for years can start moving on his own path to the Ultimate Vandersteen with System NINE.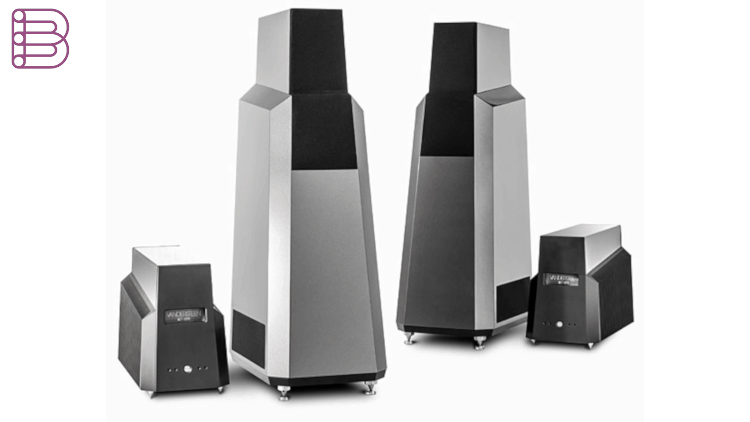 The Path To The Ultimate …
The legendary, award-winning Model Seven has been in continuous production since 2009 and the Mk II version incorporates the boldest expression of every meaningful Vandersteen Audio speaker technology. Highlights include patented "Perfect Piston" carbon fiber-balsa core driver cones, ultra-quiet carbon-bodied "cabinet-within-a-cabinet" enclosure, and of course a 400-watt powered subwoofer with 11-band room EQ for "perfect bass in virtually any room."
Bedrock Integrated Plinth
Bedrock is the least expensive System NINE component, so for Model Seven and Seven Mk II owners its performance-value ratio is arguably the best of the bunch. Bedrock couples to the base of the Model Seven MK II, adding mass and immense rigidity to the entire enclosure rendering it even more "silent." It also raises the height of the drivers relative to the listener, increasing the sense of space, depth and immersion.
Bedrock's constrained-layer construction melds layers of granite with other proprietary materials and stainless steel coupling hardware. All materials have a sonic signature, but constrained-layer construction is mechanical magic, not allowing any single material's signature to rise to audibility. In this way all the materials become sonically inert for blacker backgrounds. The Bedrock is engineered to retrofit onto any existing Model Seven or Model Seven Mk II.
Ultimate Fidelity In Any Room
When Richard Vandersteen heard thedramatic reduction in distortion realized by his patented Perfect-Piston™ drivers (US patent #8320604) in the original Model Seven, it was clear that the next frontier of performance would only be achieved by designing a completely new beyond-the-state-of-the-art high-pass amplifier from the ground up.
Integrating the high-pass in the power amplifier is the ultimate realization of Richard Vandersteen's approach to powered-bass system performance. Where many systems merely add "more bass" with subwoofers, a high-pass system in which the frequencies above 100Hz go to the power amplifier while the low frequencies only are passed to powered subwoofers is far more ideal. This creates the flattest frequency response at the crossover between speakers and subs for unsurpassed musical continuity, and it also improves the performance of the main amplifier by relieving it of the duty of reproducing the deepest bass frequencies. The result is beautifully improved midrange and treble performance from the main amp, coupled with unsurpassed dynamic clarity and bass authority.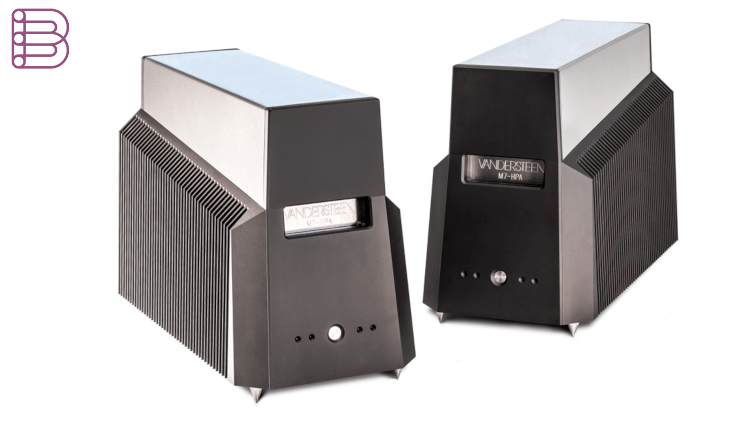 When a Model Seven or Seven Mk II is paired with its soul mate, the M7-HPA, the entire frequency range is driven by perfectly tailored amplification and played back through loudspeakers that reproduce the amplifier signal with breathtaking "dimensional purity."
The M7-HPA's technological advancements are extensive, but the highlights start with 600-watts of power for 100Hz and up. The extreme purist design has only 5 parts in the signal path per phase, zero feedback, and places all the delicate active circuits are isolated on an advanced floating truss to defeat potential distortions from in-room resonances.
In a real sense, the M7-HPA incorporates three high-end components into each amplifier. Ultra-advanced power-line conditioning is built into the M7-HPA and ultra high-end solid-silver speaker cables with Dielectric Bias are included. The amplifier output stage, speaker cables and loudspeaker interface are electrically optimized to each other to such a degree that the sonically compromising output stage compensation required in typical amplifiers is completely unnecessary.
Bass & Soundstage Expansion for Larger Rooms
SUB NINE is a discovery Richard Vandersteen made during research and development for a potential new flagship speaker. SUB NINE is only sold in stereo pairs, which eliminates standing waves for even, powerful and incredibly tuneful performance throughout the entire listening room. Each subwoofer has a 400-watt power-factor corrected power supply, and a 13″ downward-firing, slot-loaded woofer with a patented cellulose-fiber/foam cone.
Pairing SUB NINE with the Model Seven or Seven Mk II establishes a thunderous bass foundation with a total of four, 400-watt powered subwoofers, each with onboard 11-band room EQ for "perfect bass" in virtually any room. And we mean ANY room. No matter how big your space is, subterranean and musically righteous bass will express itself in full, beautiful bloom.