Today we'll be spinning records. Turntable time at best of high end! Let us introduce you to the new reference turntable from Thorens. Let's get to know Thorens first. It's a Swiss company founded in 1883 by Herman Thorens in Giebenach Switzerland. Thorens is known as a manufacturer of electronics, mostly turntables. Did you know the company produced harmonicas until 1952 and lighters until 1964? Let's stick to the turntables for now.
How the turntable works
The electrical signals in a turntable are created by mechanical vibrations of the stylus of the cartridge while it moves along the grooves of a vinyl record. These vibrations are converted into sound. That's basically how a turntable works. But that's not all. All other mechanical vibrations lead to distortion and unwanted effects. The source of such vibrations can be people walking around, the waves of the music and self-generated vibrations from the turntable itself. These must be always avoided. Hence the challenge for team Thorens.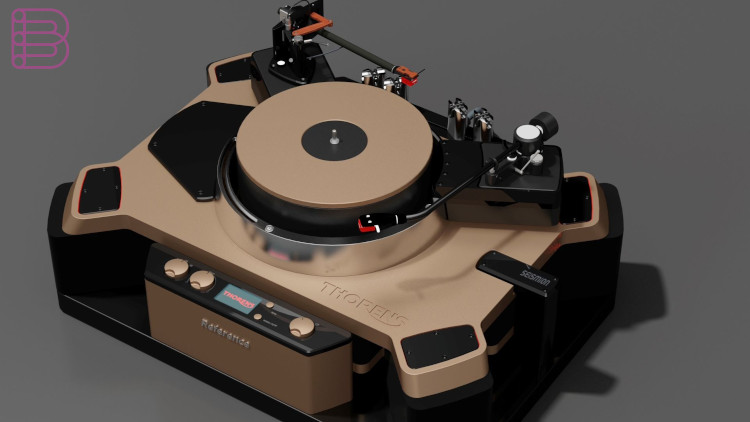 Thorens teamed up with German company Seismion to design a turntable with a fully active vibration isolation system. The centre of gravity is close to the plane of isolation. In this way, the coupling of horizontal vibrations and tilting motions are greatly reduced. The chassis itself is made non-resonant by its layered structure of highly damped materials. The result is simply pure music.
New Reference Motor
Another fundamental part of the turntable is the drive unit, to achieve perfect and constant rotation speed of the platter. The Thorens New Reference features a German-made 3-phase synchronous motor, driven by three linear power amplifiers with 120° shifted sine signals The motor torque is transmitted to the platter by a belt. It can be equipped with up to 3 tonearm bases and can accommodate tonearms of 9", 10" and 12". Isn't she beautiful? It's a masterpiece if you ask me. Thorens is very proud to present their New Reference turntable as they celebrate 140 years of business. If you want more, visit thorens.com or your local dealer.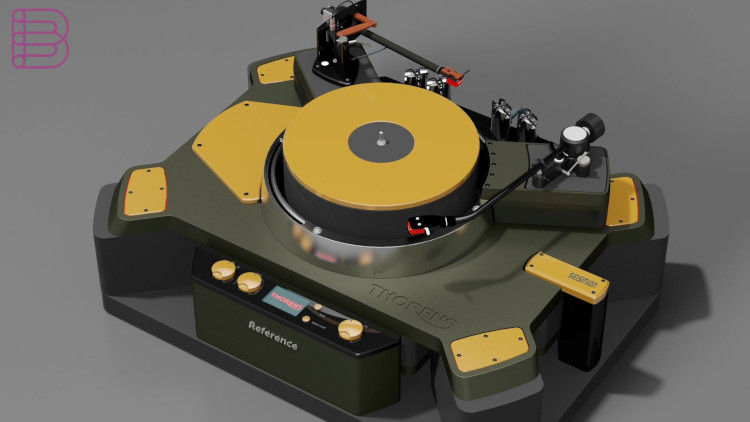 More details on the Thorens New Reference.
Visit the Thorens website.