Marantz is proud to introduce their first 13-channel AV pre-amplifier, the AV8805. The Marantz AV8805 perfectly handles all high-resolution audio formats and produces exceptional surround sound quality, giving installers and home users the flexibility and performance to bring even the most delicate sounds to life. Not only does the AV8805 process up to 13.2 channels, it also hosts Marantz's unique Hyper Dynamic Amplifier Module (HDAM) for all channels independently, as well as full wireless multi-room audio, empowering integrators and users to seamlessly create a whole-home audio experience unlike any other on the market. For those demanding the ultimate home entertainment experience, the Marantz AV8805 is a no-compromise, multichannel AV processor and pre-amplifier, designed for use with high-quality external power amplification or active speakers. Blending a futuristic minimalist design, the Marantz AV8805 produces superb surround sound from the latest 3D audio formats, including Dolby Atmos, DTS:X and Auro 3D decoding. Auro 3D will be added via a future firmware update at no extra charge. Furthermore, thanks to its eight top-of-the-line, premium grade AK4490 32-bit stereo DACs across all channels, the AV8805 perfects audio quality for optimal fidelity.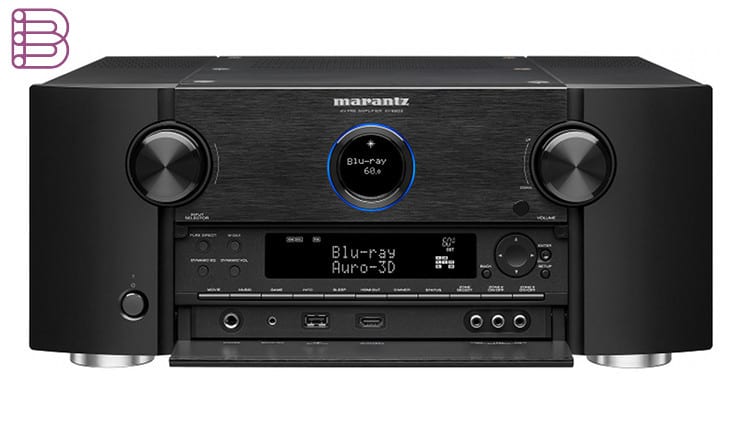 Sophisticated engineering
The 13.2 channel AV8805 with 15.2 channel XLR and RCA outputs provide a flexible yet detailed pre-amplifier stage for the advanced home cinema enthusiast. Enjoy it with acoustically matching Marantz MM series power amplifiers, like the MM8077, and immerse yourself in three-dimensional audio provided by the latest integrated surround formats, including Dolby Atmos, DTS:X and Auro-3D. Auro-3D will be enabled via a future firmware update at no additional charge. Marantz proprietary HDAM technology combines matched-precision discrete circuit elements with ultra-wide-end response for a wider soundstage and refined musical reproduction while built-in Bluetooth, Wi-Fi streaming and HEOS support, plus Apple AirPlay compatibility, let you stream and enjoy your favorite audio wirelessly.
Latest HDMI connectivity; HDCP 2.2 compatible
The Marantz AV8805 is future-compatible, with the latest HDMI and HDCP 2.2 specifications on all eight HDMI inputs. AV8805 supports 4K Ultra HD 60Hz video, 4:4:4 Pure Color sub-sampling, High Dynamic Range (HDR) and 21:9 video, 3D, and BT.2020 pass-through on every input. It is compatible with 4K Ultra HD Blu-ray disc players, set-top boxes and other 4K Ultra HD sources. Dolby Vision compatibility, HLG (Hybrid Log Gamma), new HDR format for broadcasting and pass-through capability are also supported.
Immersive sound formats
Feel every dimension in Dolby Atmos with object-based audio formatting that creates a truly immersive listening experience. Enjoy a 7.1 surround sound speaker system and six additional overhead speakers or Dolby Atmos elevation speakers for the ultimate home theater experience — including Dolby Surround upmixer for legacy content. DTS:X™ immersive audio places sound where it would occur naturally in space, creating a lifelike, multi-dimensional audio experience in the home. The included spatial remapping engine of DTS Neural:X™ offers improved immersion and heightened realism in all of your favorite movies. By fully immersing the listener in life-like sound, Auro-3D provides a more encapsulating surround sound experience thanks to dedicated height and overhead channels in addition to the regular channels. Auro-3D will be enabled via future firmware update at no additional charge. eARC (Enhanced Audio Return Channel) supports the transmission of 3D audio from your TV apps with a single HDMI connection for the simplest setup. This feature will be enabled via a future firmware update.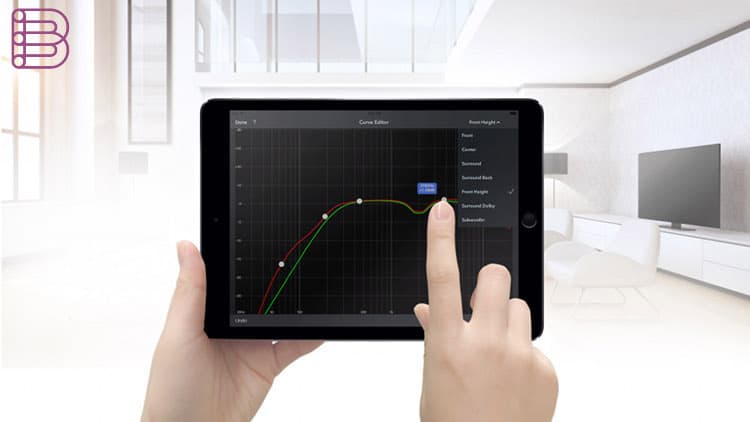 Built-in bluetooth, wi-fi, and AirPlay capability
Featuring Bluetooth and Wi-Fi wireless streaming connectivity, the AV8805 is equipped with an advanced dual antenna transceiver system for robust streaming even in congested urban environments. Plus, with Apple AirPlay compatibility, you can enjoy listening to your favorite audio content wirelessly from your iOS devices such as an iPhone or iPad.
Perfect solution for wireless multi-room music streaming
Built-in HEOS technology lets you enjoy your favorite music in any room of your home for a wireless, whole-home audio experience. Play the same song in every room, or select a different song for each connected room — the choice is yours. Also works with Amazon Alexa, providing cutting-edge voice control and incredible sound for all of your home entertainment. Enjoy music from Spotify, TuneIn Internet radio, Sound Cloud, Tidal, Napster, Deezer or your local music file libraries. With additional HEOS components like the HEOS speaker range or other HEOS-capable receivers, you can play all your music in one room or many.
Amazon Alexa
Use your voice to stream your favorite music services to this HEOS-enabled AV Receiver. Ask Alexa to play music from Pandora, Spotify, Amazon Music and much more. Switch between inputs (Blu-ray, DVD, Media Player, etc.), turn volume up or down, pause, mute and play the next song — all with your voice. To start streaming with Alexa voice commands, open the Alexa app and select "Skills." Add HEOS Home Entertainment to enable. Then, go to Smart Home in the Alexa app menu and choose Devices and Discover or say "Alexa, discover my devices." With HEOS Home Entertainment and Alexa, you can stream to this product and any other HEOS-enabled device.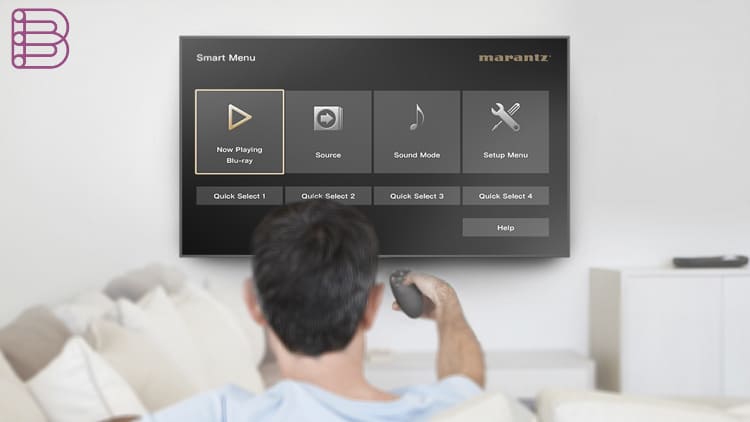 Marantz 2016 AVR Remote
Re-designed from the ground up, the Marantz 2016 AVR Remote app gives you unprecedented control over the latest generation of Marantz network AV Receivers, from iOS and Android phones and tablets. Along with many new features, the graphics and user interface have been completely overhauled: control power, volume, input and settings, or switch to the HEOS app to access an incredible range of music content and streaming services, all with full HEOS wireless multi-room control.
Hi-Res audio
The AV8805 lets you discover the incredible fidelity of high-resolution audio tracks with the ability to decode up to 24-bit/192-kHz ALAC, FLAC and WAV lossless files as well as DSD 2.8MHz and 5.6MHz tracks (the audiophile format of SACD) via the front panel USB port and network sources. Or, listen to other popular file types such as MP3.
Advanced 32-bit D/A conversion on all channels
The Marantz AV8805 features premium grade AK4490 32-bit DACs on all channels and XLR input and outputs. There's a balanced XLR stereo input that's assignable as well as 15.2 balanced XLR outputs, which includes the two subwoofer outputs, front height/width outputs and overhead channels. This extensive balanced XLR compatibility ensures high-end performance in the home and the studio, while 15.2 pre-outs (RCA jacks) provide additional compatibility with multiple power amplifier types.
High-Grade audio components
The AV8805 features the latest Marantz proprietary HDAM (Hyper Dynamic Amplifier Module) components, which consist of matched-precision discrete selected circuit elements on a compact sub-board along with ultra-wide-band response (100 kHz, -3 dB) for an open soundstage with refined detail reproduction.
Advanced Audyssey MultEQ XT32
Equipped with the full Audyssey Platinum suite of advanced DSP algorithms, the AV8805 features Audyssey MultEQ XT32 automatic room acoustic correction. With the supplied measurement microphone, MultEQ XT32 analyzes each speaker's output (including the subwoofers) at up to eight measurement locations and generates precision digital filters that optimize each channel for the correct frequency and time domain response. Plus, the Audyssey MultEQ Editor app lets you view and adjust settings for detailed tuning and customize the sound more precisely to your room and tastes.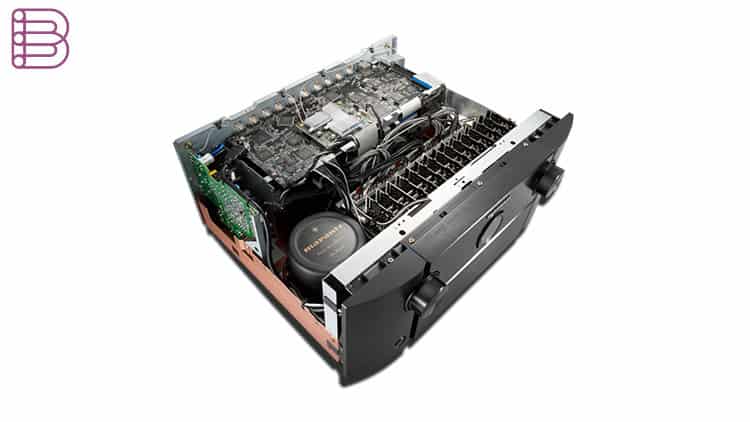 External control capabilities
For remote control compatibility with other components in your home theater system, the AV8805 features an IR (infrared) remote control input and output on the rear panel, along with dual 12V trigger outputs. For direct connection to external home automation and control equipment, the AV8805 features an RS-232C serial port with Control4 SDDP (Simple Device Detection Protocol) and Crestron Connected certification for quick and easy integration with Control4 and Crestron home automation equipment.
Dual subwoofer outputs
A single subwoofer demands optimal placement to avoid audible peaks and dips in the low-frequency response at the main listening position. The AV8805 supports two subwoofers: used in different locations, these will even out the low-frequency response for more accurate bass anywhere in the room.
Multi-source/Multi-room
Whatever your family's entertainment needs, the AV8805 delivers: you can enjoy 13.2-channel surround sound in the main room, and at the same time play stereo sound from another source in a different part of the house. There are versatile configuration options thanks to the 13 channel processing capability.
Smart TV connectivity
The Marantz AV8805 may be controlled with your Smart TV remote via the HDMI CEC functionality associated with your Smart TV. Simply set "HDMI Control" to ON in your receiver, then set "Smart Menu" to ON and begin controlling the AV8805 with your TV remote. The Smart Menu home screen provides you quick access to source and surround mode selections, the AVR's setup menu and four Smart Selects.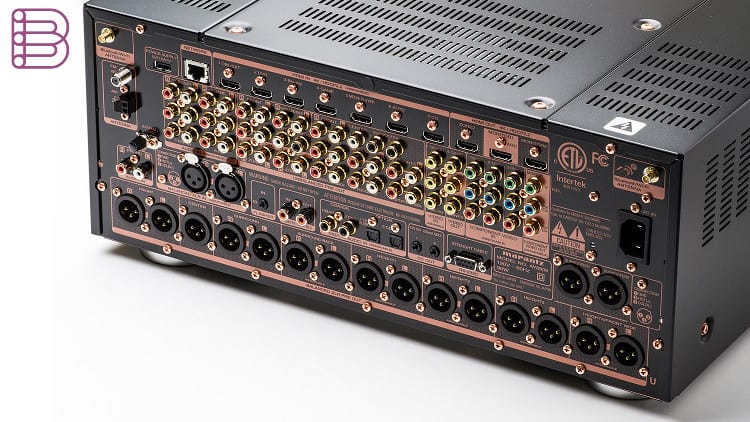 Visit the Marantz website.