Lyngdorf Audio launches its all-new high-end audio design loudspeaker, the Cue-100. Lyngdorf from Denmark is renowned for digital amplifiers, advanced multichannel processors, and RoomPerfectTM calibration, while loudspeakers have also been part of the portfolio since the company started in 2005.
Pure speakers with Purifi
The Cue-100 is the first high-end audio loudspeaker merging modern Danish design with the latest Purifi speaker technology. The benchmark-setting Purifi aluminum drivers are integrated in a uniquely shaped cabinet, finished in satin-black or satin-white with solid oak elements, and available with a selection of five all- around fabric covers by Gabriel from Denmark. Designed and made at Lyngdorf Audio in Denmark, the Cue- 100 is the perfect loudspeaker for audiophile enthusiasts as well as design-conscious music lovers.
When using the Cue-100 together with Lyngdorf's own digital amplifiers, the RoomPerfectTM technology calibrates the speaker acoustically to the room, always achieving the best possible sound performance in a given room and for every speaker placement. Designed as a high-end audio two-way speaker, the Cue-100 can also be combined with high-end amplifiers from other manufacturers.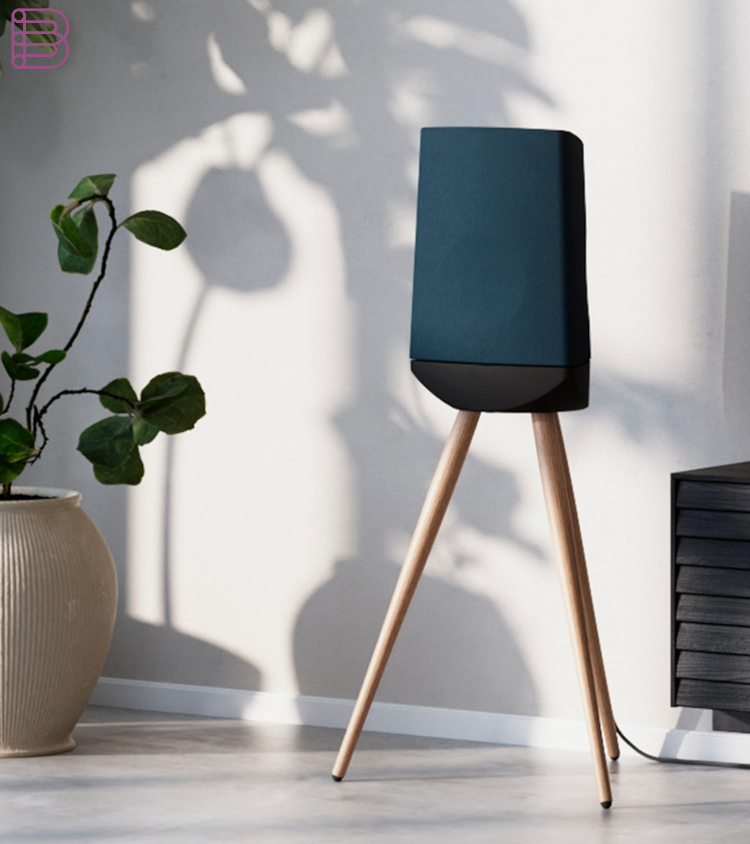 Purifi from Denmark has set new benchmarks in speaker technology by creating ultra-low-distortion woofers. With several innovative technologies, Purifi achieves the market's lowest distortion and therefore highest sound purity. The most recognizable is the Neutral Surround Geometry, where the ring shape consists of alternating mountain ridges. Lyngdorf's own Air Motion Transformer extends this level of sound performance to the highest frequencies. The result: Outstanding sound purity and a detail resolution never heard before.
Listen in Danish style
Gabriel from Denmark is one of the leading fabric specialists since 1851. Gabriel creates the finest fabrics for furniture, interiors, and acoustics. For the Cue-100 an all-around speaker cloth was designed, available as an optional accessory in Grey, Black, Petrol Blue, Dusty Green, and Red. The fabric is OEKO-TEX® STANDARD 100 certified. The combination of cabinet in white or black, base finish in white, black or oak, and five fabric colors allow 24 different combinations to suit every home.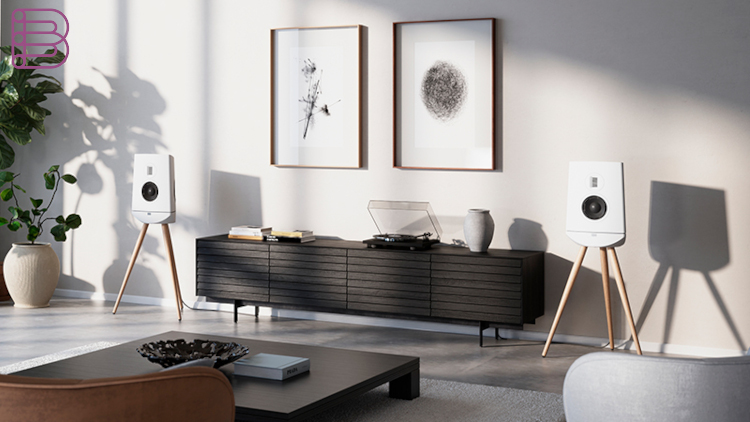 The Cue-100 is Made in Denmark at Lyngdorf Audio's headquarter in Skive, Denmark, with a high level of craftsmanship. Production has started and the loudspeaker will be available from March 2023.
More details about the Lyngdorf CUE-100.
Visit the Lyngdorf website.