Cables are tricky. You have believers and non-believers. In the high end scene, I believe we state that most of the enthusiasts are believers. Maybe it's fair to say that you 'season' your system or setup with cables. Digital cables transfer digital information: that's a 1 or a 0. How can there be a difference between 2 different digital cables? I've had lots of experience with HDMI cables, USB cables, digital coax interlinks. I don't think I've ever compared AES/EBU cables. Here rises the challenge. I'm using studio grade AES/EBU cables to get the signal to my Genelec monitors when editing and rendering videos. I would love to hear the difference with the Graditech Kide Digital, if any.
About Graditech
Graditech's founder Pasi Lankinen wanted people to hear music without filters, without distortion, without any barriers. He wanted to connect listeners to their music. With his roots in the loudspeaker and electronics industries, Pasi knew all the inherent problems with speaker, amplifier, cable, and room interaction. Being a Finnish designer and a music lover, this was a challenge that he intended to win.
Graditech Kide Digital
Kide Digital has been designed to deliver an exceptionally neutral, accurate, musically faithful and captivating sound. Based on our acclaimed Kide 3, three twisted pairs of silver-copper are engulfed in a silver copper shield to deliver the music as it was meant to be: precise and enjoyable at the same time. Kide was designed to create an image, but an aural one, not depicting the frozen complexity of an ice crystal. Yet its intriguing characteristics will remain in your mind, driving you to listen to music.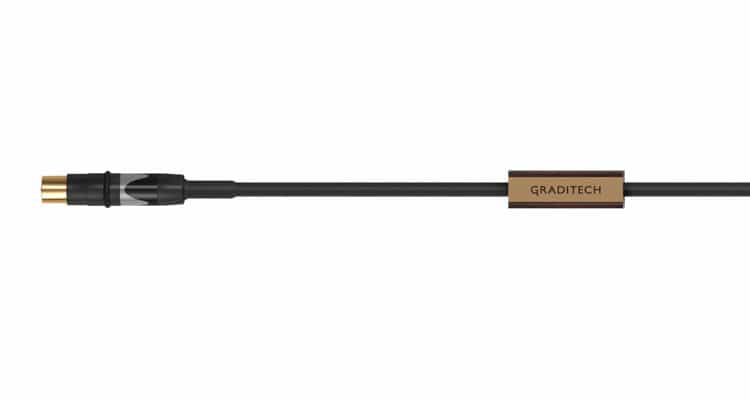 Features
6 strands / 3 single twisted pair of silver plated copper conductors
PTFE Teflon dielectric
FEP Outer jacket
Neutrik RCA or XLR
Find out more on the Graditech website.