Connaisseur-AV, the Gold Note distributor for the Benelux and Denmark announces that Gold Note has released a new phonostage in their lineup, the Gold Note PH-10.
The Gold Note PH-10 is a new phonostage dedicated to the most demanding audiophiles and enthusiasts looking to spend more time with music and less with manuals. The unit is available in different chassis colors, and will retail for 1,499 euro.
Engineered to reach the best sound possible and total control over the listening experience, the Gold Note PH-10 has everything is right where it should be. On the front panel we find a large TFT monitor showing all the setup information with a clear layout that's easy to read. The Gold Note PH-10 features Single Knob Control [SKC]; an elegant solution to browse, select and change settings instantly. This way you can enjoy the best out of your system finding the perfect match between PH-10 and your MM and MC cartridges. Just use simple, intuitive gestures, without the need of disconnecting cables or adjusting switches.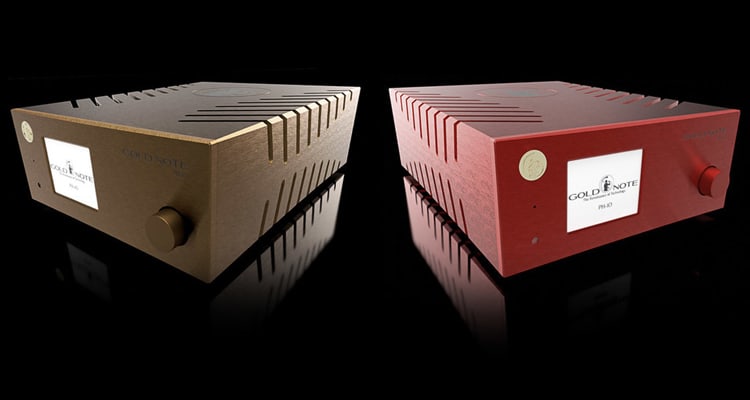 With the Gold Note PH-10 you can select the proper EQ curves to achieve an accurate sound reproduction. Try choosing between RIAA, Decca-London and American-CBS-Columbia as well as "enhanced" versions of each curve to improve the natural sound crispness of the cartridge. Through the Single Knob Control, you can quickly select between MM/MC cartridge type, four GAIN options [-3dB, 0dB, +3dB, +6dB] and nine LOAD options [10Ω, 22Ω, 47Ω, 100Ω, 220Ω, 470Ω, 1KΩ, 22KΩ, 47KΩ] for a perfect match with virtually any phono cartridge available on the market. There's more. The Gold Note PH-10 features two separate, independent RCA inputs and lets you connect two different tonearms (or even turntables) and adjust the settings independently for each single cartridge!
Gold Note's Maurizio Aterini states: "At Gold Note we are very passionate about vinyl – it's in our company's DNA as we have devoted many years to developing high-end solutions to play records at their best – so when we started the new phono stage project, we knew right away that we wanted to create an advanced and exciting machine, something we've never done before: and so the PH-10 was born".
Powered by a specially designed anti-rumble high-pass filter, the Gold Note PH-10 provides great control on the low frequency distortion preventing intermodulation that would normally activate bass drivers producing inaccurate sound. All electronic boards are double sided and the paths are gold plated, ensuring a superior and consistent audio performance. Every unit is built into a chassis machined from a solid block of aluminum, a choice that guarantees low vibrations and a beautiful brushed anodized finish.
Maurizio adds: "Every time we design and create a new component, we start by asking ourselves two fundamental questions. How can we achieve the best performance possible? How can we empower audiophiles to use this new component at its best? This process helps us to focus our attention to what matters the most and I think that the Gold Note PH-10 is a great answer to both questions".
Gold Note PH-10 Phonostage specification
Brushed anodized aluminum chassis available in black, silver, gold and red
Equalization Curve control: 6 selectable curves [RIAA – Decca-London – American-CBS-Columbia] with enhanced options
High-Pass Anti-Rumble filter
2 separate independent stereo RCA inputs
Input sensitivity: 0.1mV MC up to 7.0mV MM
Input impedance: 9 selectable options [10Ω 22Ω 47Ω 100Ω 220Ω 470Ω 1000Ω 22KΩ 47KΩ]
Gain: 65dB MC – 45dB MM with 4 options [-3dB 0dB +3dB +6dB]
Line output level (fixed): stereo RCA @ 2Volt and balanced XLR @ 4Volt
Frequency response: 2Hz – 200KHz @ +/- 0.3dB
THD (Total Harmonic Distortion): <0.002% MAX
Signal to noise ratio: -102dB
Dynamic response: 122dB
Output impedance: 500Ω
Phase response: linear phase, absolute phase inverted
Main supply: 100V to 245V ▪ 50/60Hz (depending on market destination, not convertible)
Power consumption: 30W super linear power supply
Weight: 4Kg
Dimensions: 220mm L | 80mm H | 260mm D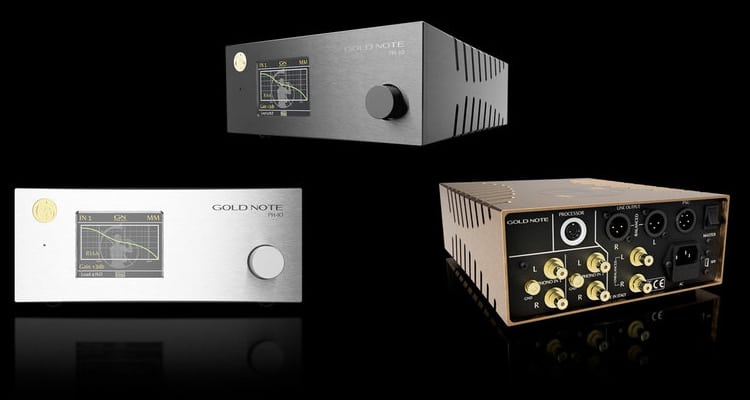 For more information, you can contact Connaisseur-AV.