The Artera Solus is a multi-tasking hi-fi system packed into a single sleek and sophisticated box, combining a CD transport, DAC, pre-amplifier, and power amplifier in a single compact chassis, with extensive connectivity options including Bluetooth connectivity.
Classics for the modern age
The Artera range combines the qualities that have made Quad one of Britain's most revered hi-fi marques for many decades with fresh industrial design and the very latest high-performance audio technologies. Artera's crisp, clean aesthetic both evokes Quad's past and looks forward to the future, with a textured aluminium front panel, thick glass top and CNC-routed heat sinks on either side. The housing provides a rugged structure that resists interference from external vibrations, while the facia of each player incorporates an intuitive touch-sensitive control, contributing greatly to its sleek design.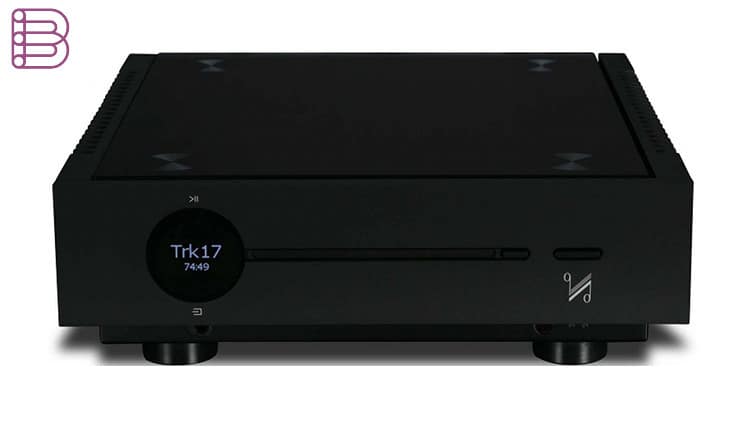 Hi-res compatibility
Despite their attractive simplicity, the three Artera components deliver exceptional sophistication beneath the skin. At the heart of the Artera Play and Artera Solus nestles the ESS Sabre32 9018; a 32-bit, eight-channel hybrid multi-bit Delta-Sigma DAC considered by many to be the finest D/A converter chip available for stereo sound. This is Quad's first series to utilise the ESS Sabre DAC, and external digital sources can benefit from its exceptional quality via a range of digital inputs. These include USB, with support for PCM data up to 32-bit/384kHz and also DSD64/128/256, ensuring the Artera Play, and Artera Solus are fully equipped to make the most of today's hi-res music formats, as well as future advances in ultra-high-definition digital sound.
Filters to suit ever ear
For CD replay, a new slot-loading mechanism buffers data from the disc before feeding it asynchronously (in order to minimise time domain errors known as 'jitter') to the DAC section. Four digital filter options enable users to tailor the Artera Play's, and Solus's sound, with both CDs and external digital sources, to suit personal taste and the nature of the source material. Each player within the series features a preamp section which boasts a balanced Class A output stage. Two coaxial and two optical inputs cater for external digital sources alongside the USB input, with a pair of RCA phono inputs handling analogue sources. Analogue outputs are supplied in both single-ended RCA and balanced XLR varieties; a pair of digital outputs (optical and coaxial) and a 12V trigger output complete a comprehensive array of connectivity options.
Iconic amplifier technology
The inclusion of full analogue/digital preamp functionality means that the Artera Play can be connected directly to a power amplifier, and its perfect partner in this regard is the Artera Stereo. This compact yet potent power amp sports the latest iteration of Quad's famous Current Dumping topology, first introduced in the legendary Quad 405 – one of the most lauded British audio components of all time and still the only amp design to have earned a Queen's Award for Technological Achievement. Current Dumping is essentially a method of marrying the superior sonic purity of Class A amplification with the greater efficiency of Class AB. An extremely high-quality, low-power Class A amplifier provides the signal quality, while a high-power current dumping section delivers the muscle to keep the speakers under control. These two amp circuits are combined via a precision network to perfectly impose the finesse of the Class A output onto the power of the current dumper. The result is a relatively compact and cool-running power amp capable of delivering a captivating combination of dynamic power, vice-like grip and sumptuous sonic detail. For those seeking the huge connectivity options of Artera's players in an all-in-one solution, the Artera Solus fills that niche, not only with a built in pre-amplifier but also housing a substantial power amplifier, CD player, DAC and bluetooth technology.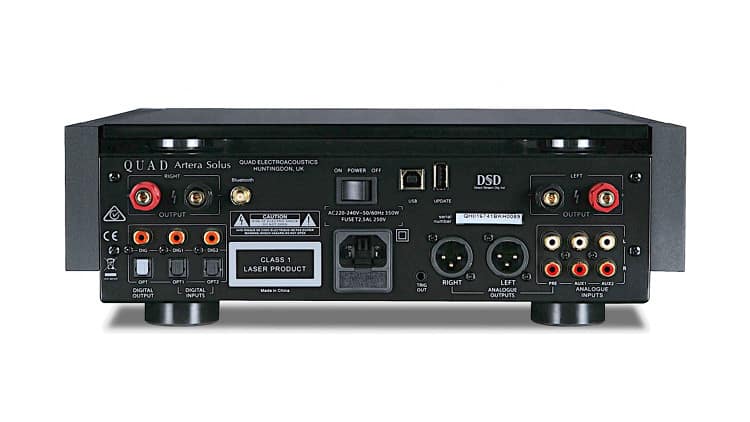 Visit the Quad website.