The new flagship JVC DLA-RS4500 combines a JVC-developed native 4K D-ILA device with the company's proprietary BLU-Escent™ laser phosphor light source to deliver a brightness level of 3000 lumens and 20,000 hours of operational life. In addition, the new laser light source offers dynamic light source control for the highest native contrast available. To further ensure that the projector delivers bright, high-quality 4K images, it features HDR compatibility, a new high-resolution lens developed specifically for 4K applications, and a new Cinema Filter for a wide color gamut.
Native 4096 x 2160 4K D-ILA Device
The new 4K D-ILA device used in the DLA-RS4500 is JVC's latest and smallest 4K D-ILA device. The 0.69-inch device has a pixel gap of 3.8 ㎛, 31 percent narrower than the gap in earlier devices. Also, by using both vertical orientation technology and planarization technique, scattering and light diffraction have been decreased, which enhances contrast. The result is a smooth, detailed image with no visible pixel structure, even when using large screens. The DLA-RS4500 uses three of these new 4K D-ILA devices, one each for red, green and blue. and delivers 4096 x 2160 resolution.
BLU-Escent Laser Light Source
The light source for the DLA-RS4500 is JVC's proprietary second generation BLU-Escent laser phosphor light engine, which uses blue laser diodes to offer a brightness level of 3000 lumens and 20,000 hours of operational life. The laser unit employs six banks of eight laser diodes to achieve its high brightness levels, and a stationary emissive phosphor, which reduces mechanical noise and enhances reliability. The high brightness allows the projector to be used with screen sizes over 200 inches and makes the most of HDR to deliver an image with depth and richness.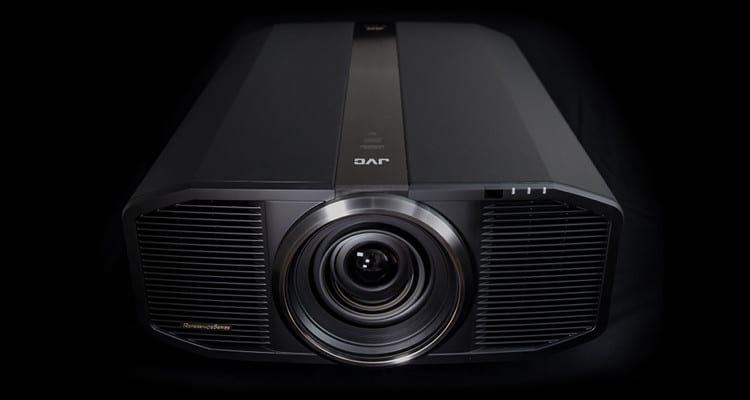 Dynamic Light Source Control
With its laser light source, the DLA-RS4500 can control laser output dynamically, adjusting output instantly based on the scene to provide bright whites, deep darks and brilliant colors. With its Dynamic Light Source Control, the DLA-RS4500 achieves a contrast ratio of ∞: 1.
Wide Color Gamut
The combination of a laser light source and a new Cinema Filter allow the DLA-RS4500 to achieve a wide color gamut of 100 percent DCI P3 and over 80 percent coverage of BT.2020. This allows subtle gradations, such as of the sky or the sea, to be vividly reproduced.
New High Resolution Lens
Developed in conjunction with the new 4K D-ILA device was a new 18-element, 16-group all-glass lens with full aluminum lens barrel. A new 100mm diameter lens is used for best light efficiency and to project 4K resolution to every corner of the screen. This compares to 65mm diameter designs used in other JVC projectors. The new lens offers an expanded shift range of ±100 percent vertical and ±43 percent horizontal. In addition, by adopting five anomalous dispersion lenses we are able to reduce chromatic aberration and color fringing to deliver precise projection of 4K resolution graphics.
HDR Compatibility
HDR (High Dynamic Range) content offers an extended brightness range, 10-bit gradation and wide BT.2020 color gamut, which place high demands on display devices. With its high contrast ratio, 80 percent BT.2020 coverage, dynamic light source control and high brightness, the DLA-RS4500 gets the most out of HDR images. When the projector detects an HDR signal automatically selects the correct picture mode preset based on HDR10. The DLA-RS4500 also offers Hybrid Log-Gamma, a new HDR standard for broadcasts and streaming services.
New Design
The DLA-RS4500 features an all-new cosmetic design, with a symmetrical cabinet that combines aluminum and matte black paint for a luxurious appearance while also reducing reflections. The center-mounted lens is set off from the black body by a gold alumite ring. For cooling, the rear intake/front exhaust fan adapts to the installation environment to maximize its effectiveness, and it employs a professional level air filter that can withstand severe conditions.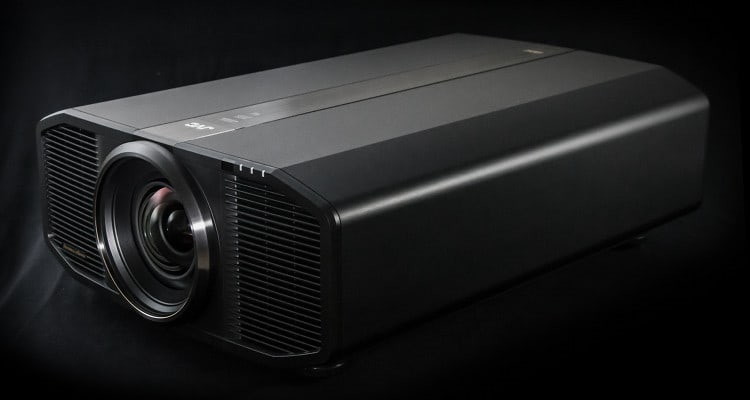 Visit the JVC PRO website.