Italian manufacturer Gold Note introduces a new luxurious finish for their electronics, a gold finish. The new Gold finish is available for all their electronics including the IS-1000 all-in-one amplifier.
Gold Note IS-1000
The Gold Note IS-1000 is an advanced fully integrated amplifier that redefines the way music playback is experienced to achieve a new pinnacle in High-End audio, seamlessly merging a powerful Class A/B Integrated Amplifier, a Phono Preamp, a DAC and a Streamer in a unique, complete source. The IS-1000 is a Roon Ready device, fully compatible with multi-room systems and with a quick plug&play installation: simply plug IS-1000 to the main A/C, connect it to your network (Wi-Fi or Ethernet) then to the speakers and start to explore the endless possibilities of music, streaming from Tidal & MQA via Tidal, Qobuz, Spotify & Spotify Connect and Deezer with Roon and our App [available for iOS and Android] or browsing your collection of digital music stored locally on NAS and USB sticks (DSD64 via DoP on USB and LAN, PCM up to 24/192 with exclusive possible option to interchange the DAC converter PCB). You don't need anything else to experience at home the pleasure of high definition audio, just IS-1000 and your speakers. If you love vinyl records, connect your turntable directly into IS-1000 to use the Phono Preamp we designed and engineered, it's really that simple. The new Class A/B amplifier with 125W@8Ω per channel guarantees the pure sound, vivid dynamics and the finest detail, offering a wide range of digital and analogue inputs to assure total control and freedom to upgrade, expand or connect more devices to IS-1000.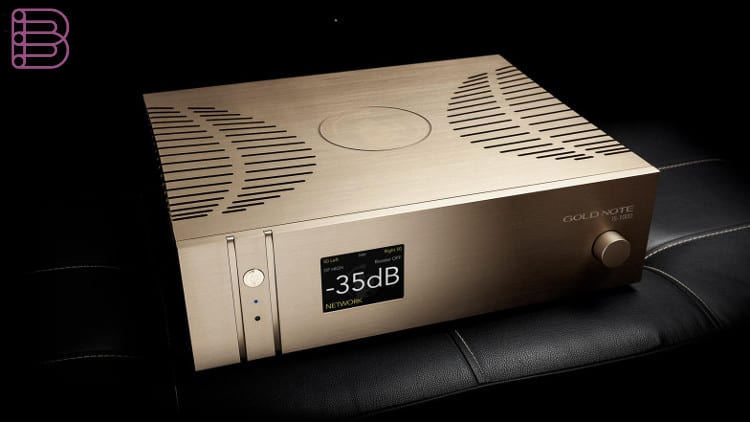 Gold Note PH-10
The Gold Note PH-10 is an ultra-versatile phono preamplifier that offers unique features, including EQ CURVES, LOAD and GAIN adjustments: a fully analogue design engineered exclusively with high quality coils, capacitors and resistors. PH-10 is controlled via knob and display using a sophisticated micro-controller to select the functions through our custom firmware that is loaded on a micro SD dedicated flash memory and can be updated easily via PC. The micro-controller is separated and independent from the audio signal path to guarantee always clear and pure sound. Once the tonearms are connected, PH-10 can be set with 4 different GAIN levels [-3dB, 0dB, +3dB, 6dB] to match precisely the output level of any MM or MC cartridge. The perfect setup is guaranteed with 9 different LOAD options [10Ω, 22Ω, 47Ω, 100Ω, 220Ω, 470Ω, 1000Ω, 22KΩ, 47KΩ] that will let you adjust the preamp to match it with a large number of cartridges in a quick, easy way.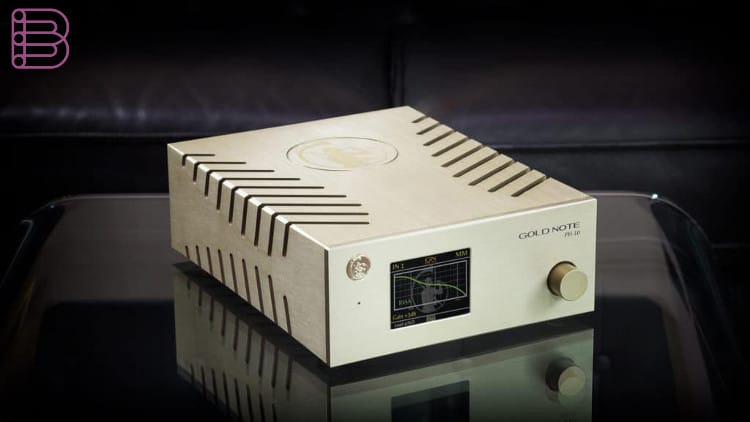 Gold Note PSU-10
The Gold Note PSU-10 is a super inductive & chokes power supply designed exclusively for the PH-10 phono stage. PSU-10 has been engineered with the best quality audio-grade components to enhance the performance of PH-10 and improve even further your system: with the dedicated external power supply you will get the  very best music experience out of your LPs. For PSU-10 we have chosen a dual choke design powered by a double inductor driving the negative and positive high current stages and featuring and inductive filter on the analogue stage. The Gold Note proprietary Dual Chokes Design perfectly filters the signal voltages in order to eliminate all the possible electrical pollution coming from the AC power system. The PSU-10 uses its massive power supply to shield the PH-10 phono stage from electro-magnetic interferences thus insulating it effectively from the AC power system. The large, ultra-clean power enhances super low noise, greater dynamic, better resolution and finer details for a more realistic high-end audio performance and pure audio pleasure. The PSU-10 can deliver high quality power using 4 transformers 3 of which are dedicated exclusively to the pure power supply and with 1 separated transformer dedicated to the inductive filter.