Auro Technologies announced that the Auro-3D® Immersive Sound experience will be available in the Burmester High-End 3D Sound System in the new Porsche Cayenne. Prior to this, in 2016, the Porsche Panamera was announced with the Burmester and Auro-3D technology Immersive Sound system. More than 60 journalists in audio, life style, and automotive press were invited to fly in to Brussels and given the opportunity to drive a Porsche Panamera or Cayenne to Galaxy Studios. By following their navigation system in the car, they were taken on a beautiful route so they could test and enjoy the new driving experience achieved with Auro-3D in the Burmester High-End 3D Sound system. All loudspeaker housings are perfectly matched and deliver superior bass foundation, definition, and precision. The result is a natural and rich textured spatial sound, even at high volume.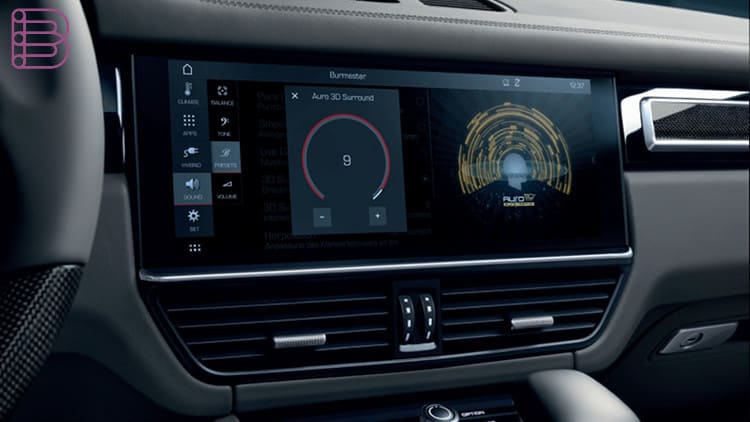 Auro Technologies' state-of-the-art audio up-mixing algorithm Auro-Matic is integrated in the Burmester High-End 3D Sound System designed for cars. Two additional loudspeakers in the A-pillars enable the use of a three-dimensional spatial sound pattern. This optional system available for all Cayenne models has a total power output of 1,455 watts plus 21 individually controlled loudspeakers, including an active subwoofer with 400-watt digital amplifier, a two-way center speaker and a total diaphragm surface area of more than 2,500 cm2. Auro-Matic is the world's most advanced up-mixing algorithm which creates a very realistic 3D Immersive Sound experience. Sound professionals are surprised when they hear how natural it sounds even from a mono or stereo source. Even if the stereo signal of the radio gets lost resulting in a mono source, Auro-Matic that is able to keep the sound very stable and natural without any phasing issues.
What makes Auro-Matic unique over an Auro-3D speaker layout is the fact that it substantially enhances the emotional experience by generating a more relaxing feeling. It creates more clarity like a natural, life-like sound. This amazing result has been achieved with full respect to the artistic intent of the creators, without changing the dynamics or balances from the original master. This means that there is no lack of content when having an Auro-3D system, because it can create that natural Immersive Sound experience from any source. Time to enjoy your favorite music in a new emotional sound experience.
We are so proud to welcome the Porsche and Burmester teams, and so many journalists from all over the world in our studios. This is where it all started and it is unbelievable to imagine that the pure emotion of a unique sound experience that the journalist heard performed live in our renowned Galaxy Hall can be now transposed inside a Porsche Cayenne or a Panamera. This totally new impressiveness of the sound really brings a new driving experience shared Wilfried Van Baelen, Chairman of Auro Technologies and CEO of Galaxy Studios.
Indeed, the Burmester® High-End 3D Surround Sound-System offers together with Auro-3D's technology a realistic, and very natural sound atmosphere in a vehicle. The developers wanted a format that focused on delivering the best possible music playback. Auro Technologies tuned Auro-Matic to bring the most perfect Immersive Sound possible in the Cayenne with the Burmester® sound system. The Burmester® sound system with Auro-3D in the Cayenne best showcases its spectacular sound quality when playing optimized, uncompressed, and high-resolution music sources. However, the system still generates a clean sound experience when playing data-reduced musical material, such as Bluetooth-streamed content, digital radio, or MP3 files thanks to its sound enhancing function. With these enhancements, the new Burmester® High-End 3D Surround Sound-System delivers with Auro-3D an even more emotional and realistic sound experience while driving such an amazing sport car!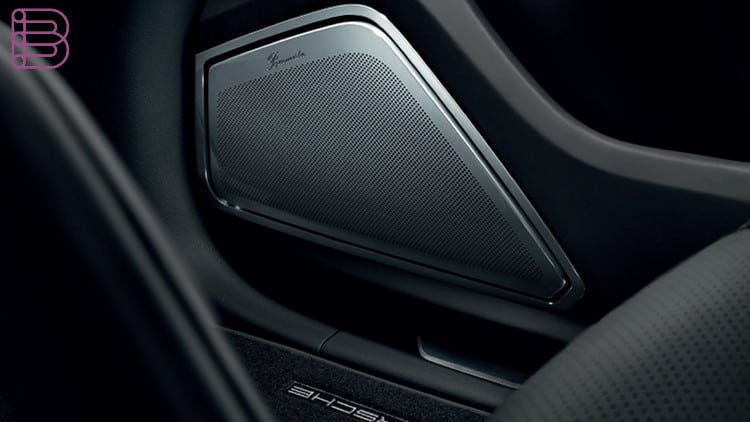 Visit the Auro-3D website.